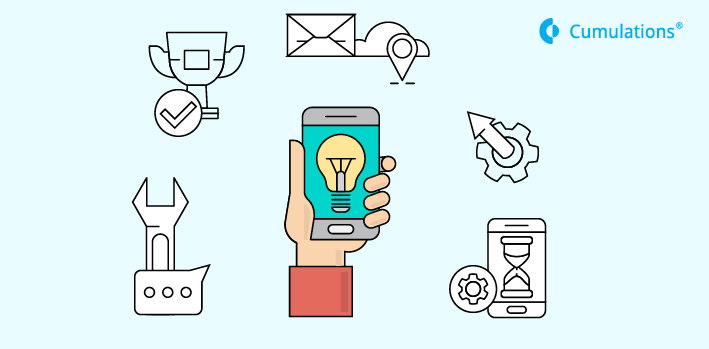 In this ruthlessly competitive marketplace, where you will come across over 2 million apps floating on the app stores, building an average app is just not an option. Showcasing fairly depraved retention metrics, a survey reveals "80% of the mobile users abandon an average app within the first three days of its installation."
Well, the reasons for this can be many. Complex to understand, difficult to navigate through, frequent app crashes, protracted and draining sign-in process, multiple advertisements making it cumbersome to steer through, etc. All such issues can dissuade the users from sticking to your app.
In order to make your customers stay with your app, you need to build a resourceful mobility solution that offers maximum value. So, if this is your maiden attempt for app development, follow our transitory guide that enlists some clever and handy tips to be observed while building a mobile app. Let's begin.
1) Select the Appropriate Platform
The two most commonly used app development platforms are- iOS and Android. Your choice of platform largely depends upon your target customers, their preferences and the specific region you are targeting. However, it is advisable to build an app for one platform and one device first. After realizing success, you can expand to other devices and platforms. This way, you will surely save on your time and money. Additionally, you can launch your app and gather valuable feedbacks which can be reflected in your next app.
2) Draw or Simply Write Down Your Prototype
Having a well-defined and lucid flow map of your entire app concept seems to be an obvious thing. But even then, most of the app developers often skip the step. Even the meekest of applications should have a well-thought-out flow chart well in place, listing all the app functions to have a logical app navigational structure.
Remember, while developing a prototype, focus on the most significant feature of your app and label it as your app's primary function to make your app more rational.
3) Pay Attention to App UI & UX
A well-regimented and neatly designed app UI plays the most significant role in making the users stick to your app. Supported by the ease of use, minimalism in design and layout and efficiency of primary functions, a competent app UI lowers the app uninstall rate.
On the other hand, an interactive UX design engages the user and invokes a positive response.
4) Serve Something Different
As a matter of fact, people are always looking for something new and out of the box. With a plethora of apps swarming the app stores, delivering an idiosyncratic solution is the only way to appeal to the masses. Therefore, try to come up with something interesting that engages the users and at the same time, offers colossal value.
5) Payment Gateway
A mobile payment gateway should be seamlessly integrated into your mobile app to allow the users send money to your account for the products or services they purchase. You need an EFTPOS machine within your application to help your customers make a purchase. You can select any gateway from the several available, depending upon your precise requirements and budget, for example, PayPal, Braintree, PayCharge, etc.
6) Price Your App Judiciously
App pricing is quite an intimidating task which needs due attention. Understand the various pricing strategies available and embark on the one that matches the requirements of your enterprise, customers, and developers. Additionally, do not force-fit any specific pricing strategy, simply because it is highly popular and approached. Consider your target customer base, the price offered by your competitors along with your actual cost of building the app. All this information will help you in making a suitable decision.
7) Test, Test & Test
The fact that frequently testing your app before launching it on the app stores cannot be over-emphasized. In order to make sure that your app performs well in distinct scenarios, it is important that you put it to test rigorously. This will help you in ironing out any glitches before it hits the market.
8) Opt For an Effective Marketing Strategy
It is important to opt for an effective marketing plan to make sure that your app doesn't get lost in the crowd. Try to create a huge thrill among the users before the launch, in order to secure an exhilarating response when your app hits the market. Generally, a lot of developers fail miserably when it comes to implementing a robust marketing strategy, and as a result, miss out on a big opportunity of grabbing the user's attention. So, make sure to begin marketing your app at least 3-4 weeks prior to the launch.
9) Privacy & Security
Privacy should be a top priority during all phases of app development. All stakeholders should understand these responsibilities and take stern measures to guarantee positive results.
On the other hand, security must be deeply embedded into the entire process and proficient frameworks should be adopted to mitigate all kinds of security concerns. Make sure to introduce timely app updates as they also greatly help in alleviating the security issues.
Final thoughts
A mobile app is a great way to enhance your brand outreach and generate ongoing streams of revenue. Keeping the aforementioned tips in mind will certainly help you in accomplishing your business goals and at the same time, create an app that the users love. You can also consult the services of reputed app development companies in India and develop a winning deliverable.
Related Read:
The Benefits of a Mobile Application Over A Mobile Website
Choose The Appropriate iOS Application Development Company to Get the Best Outcome
How Do Android App Development Companies Help In The Better Brand Positioning For Your Business