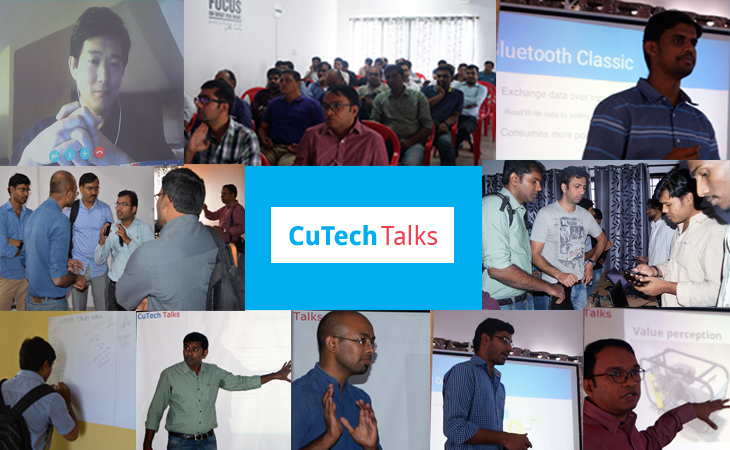 We at Cumulations Technologies extensively work on the development of mobile apps for Android &  iPhone. We are in this industry for more than 3 years and we have experienced the challenges we face as new technology arises and clients ask for the updates using trending technologies. We also realized that there are plenty of entrepreneurs out there who wants to start an exciting venture. The problem is, few of them are technically educated but few of them are not. They do not know which technology is better for what. There are strategists, consultants & analysts who work on technologies. We felt that it's a good initiative to get all the professionals under one roof which a business/operational model requires. This is how the idea of  CuTech Talks, a tech event got birth.
CuTech Talks is a tech event intended to get tech enthusiasts, entrepreneurs, strategists, decision makers, analysts and marketers under one roof. While deciding the name for the event we really didn't think too much. We felt that CuTech Talks is a unique name, easy to remember. Even though there is no literal meaning to it we can define it. It has Cu(Queue, we wanted people to come in a queue), it has tech and talks as well. Moreover, the name is cute and easy to remember. Then there were arguments took place while selecting the topic. We wanted something which excites people. We did a small survey to understand what is in need in the industry. Finally, we ended up selecting the trending topic "Art of building IoT products". In this stage, we knew our intended audience; we had selected the exciting topic. The next step was extremely important; selecting the subtopics and deciding the speakers. Because this is what people see and this sets the trend in individuals mind about the event. In fact, this is extremely important phase since in this phase we expose people what exactly we are going to do and it drives people to the event.
We divided the event into 5 topics,
Art of designing the hardware for IoT Products
Protocols involved in communication between hardware & cloud
Building mobile apps for IoT/Wearables(Modes of Communication)
A journey from idea stage-to- Kickstarter Funding-to-Launching
Problems faced & the opportunities available in the IoT space.
We really enjoyed while crafting the subtopics even though it was not easy. It was a crucial phase because if we go wrong in this phase, then everything else will go in vain.
Okay, next question was who is going to speak? Who are the speakers? Speaker gives the life to the topic. Success and failure of this kind of events are directly proportional to the speakers. We wanted the best one. Luckily we got them without much effort since we have the good connection with peers of this industry.
The next step was inviting the audience. We reached the intended audience through social media and event directories. We received enough registrations and picked up people who will be beneficial from this event.
CuTech Talk's first show held on 9th Jan 2016 with title" Art of Building IoT Product ".
Mr. Puttaraj Belaldavar, Director of Product Design and Engineering at Empoise.
happily agreed to cover art of designing the hardware for IoT products and he rendered it in a very fascinated way.
Mr. Nagasai  Panchakarla, Co-Founder of  SensiBridge Innovations & IoT Bangalore,
spoke about protocols involved in communication between hardware & cloud. Audience delighted with the taste of it.
Mr. Pradeep & Mr. Praveen, Co-Founders of Cumulations Technologies.
presented Modes of Communication in IoT which included Bluetooth, BLE, UPnP & Beacons. Audiences were mesmerized by the depth of knowledge these 2 Co-founders have on technology.
Mr. Dave Kahng, Managing Director at Davek Accessories, New York.
joined us via Skype from New York and he narrated his journey as an entrepreneur. It was relishing listening to him. We would like to thank Dave for joining us on a freezing late night (It was 1 am for him).
Dr. Tej Pochiraju, Director of Jaaga Startup and Micrograce.
took over the stage and addressed problems faced and opportunities available in IoT industry. He hypnotized audiences with the fresh & exciting content.
Demo of few IoT projects (Libre sync, Davek umbrellas, CarIO, etc) took place. Audiences were overwhelmed with the event. They said, "It was informative, well-organized & a great event, they expect more this kinda events from us". I think I need not say explicitly that this was a success. It was a memorable day, a feeling to cherish, happiness to share & a success to relish. Our brainchild got an existence as we expected.