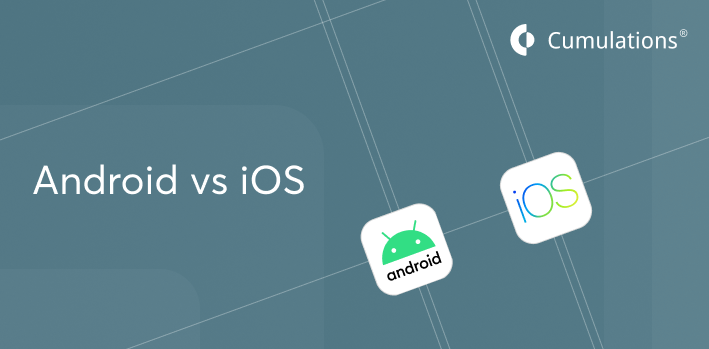 Android vs iOS
. The debate never ends.
The world of smartphones is dominated by these two big players. And truly, it is a healthy competition. Owing to this, we have witnessed tremendous development from both the players in the mobile OS market. 
Every now and then, we see the exclusive champion, iOS hurl out latest innovations to entice the users. But we will have to say that the open-source competitor, Android also never fails to catch up with the leading trends. Thus, choosing between the two is always a close call. 
Choosing the Right Platform Based on Your Marketing Budget
One aspect where we can really differentiate between the two platforms is the budget. Mostly, all businesses having a restricted budget opt for Android as their first choice. 
Now it must be understood that developing an app is very different from marketing it. And both activities require separate budgets. In this article, we will draw a comparison between the two platforms and talk about which one is more feasible for businesses having a limited marketing budget. There are a wide range of factors that play a significant role in making a choice. Let's read about each one in detail. 
So, Android vs iOS? Let's find out. 
The Cost of Releasing Your App
After the app has been developed, you need to release it on the respective App Stores, i.e. Play Store for Android and App Store for iOS. 
Now there is a huge difference in the way both the stores charge you. In case of Android app development, the app developers have to pay a one-time registration fee. But with iOS, you need to pay a yearly registration fee that is $99. 
If you have an app that is most likely to be short lived in terms of popularity, then you can go for iOS. For instance, if you are developing a gaming app, it is much more feasible to pay the registration fee for one year and then cancel the registration. This is because such apps experience a quick shot to popularity and then they get forgotten. And this is exactly what happened with games like Pokémon Go, Candy Crush Saga, etc. 
On the other hand, in case of utility apps, Android is a much more feasible option. It is because these apps have a longer lifespan. They are only downloaded by the user when the need arises. 
The Cost Per Install (CPI)
The Cost Per Install (CPI) is another metric that greatly affects your app marketing budget. CPI means that you only have to pay when the user installs the app. Regardless of how many people view your app advertisement, you will be only charged if people install the app. 
According to stats, the CPI rates of App Store are higher in comparison to Play Store. Thus, it is safe to conclude that Android is a more pocket-friendly option than iOS, in terms of CPI. 
App Store Optimization (ASO) Cost 
Whether you invest in iOS or Android, App Store Optimization is significant to the success of the app. ASO for mobile apps is same as SEO for websites. So, if you want the users to locate your app on the App Store/ Play Store, you need to make sure that the ASO is in place. 
Now, a lot of you might think that Google will undoubtedly prioritize Android apps when it comes to ranking. But this is not true. In fact, Google has a clever algorithm that displays device-relevant apps on the top. 
Moving on, you will need an expert ASO team to optimize the ranking of your app. So, you need to bear that cost in mind. 
Although iOS is a very popular mobile platform, yet it is mostly concentrated in the US. Android, on the contrary, is a leader in the global mobile market. So, if you are looking to target the global customer base, you must definitely go for Android. 
A lot of comparative studies on Android vs iOS, shows that iOS customer base is relatively smaller. However, it comprises of cultured and high-income users who like to spend time and money on their smartphones and apps. Also, professionals like business entrepreneurs and working executives find iOS more practical for business use. 
Alternatively, the greatest majority of Android users encompasses low-income regions. 
So, when it comes to deciding on the right kind of platform, you need to determine who your target audience is. If you want to capture a varied demographic spread across the world, Android should be your go-to choice. 
Push notifications are a great way to incite user response and keep them engaged. But the response to these notifications varies greatly between the two platforms. 
In terms of push notifications, Android users are more active in comparison to iOS users. Now there can be various reasons behind it. the first and the most evident being the way both platforms present their push notifications. 
In case of Android, the notifications appear on the lock screen or notification bar until they are clicked. But with iOS, these notifications vanish after the first unlock. This is the biggest reason why Android users engage more. 
If you wish to spend on push notifications, you must opt for Android as that will ensure a better response. 
Wrapping Up
While Apple retains its position as the undisputed leader in the US market, Android definitely focuses on boosting your app marketing ROI within a restricted budget. 
Although iOS app development has many advantages but for a limited marketing budget, Android is our recommended choice. It allows you to get your app released in a cheaper price as well as reach a global customer base with minimum investment.