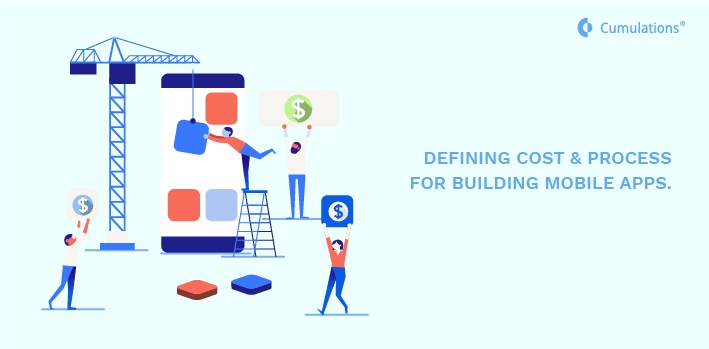 Whenever we think about app development then the first thing strikes in our mind is "App development cost".
How Much Does It Cost to Make an App​?
App development cost can be anything range from $1000-$200000 it depends upon many factors like the number of modules, features, number of screens, working model, designs and many other things. If you want to know how much does it cost to make an app for your business drop an email to sales@cumulations.com or visit this page.
If you want to get a quick app cost estimation for your project then drop an email to sales@cumulations.com or reach us on +91-996-4689921 if you are from India and if you are contacting us from the USA than reach us at +1-408-6220434.
Now to worry anymore about this question because today in this article we will gonna give you answer of this and will tell how much it will cost you to build an app, So read the article till the end.
Today, when we look around us, almost everyone has a smartphone. These smartphones have paved way for new and innovative mobile apps to make the user experience even more easy and simple.
However, most people are not aware of the costs and the processes that go in building these apps. From planning to developing to the final execution of these mobile apps, a lot goes in. Above all, it is the hard work of every mobile app developers in bangalore that goes unnoticed.
As an upcoming mobile app development player in the market, you must be curious as to how much exactly is building an application going to cost you. It is a pretty common question. It crosses most minds every single day. As people who are enthusiastic about app development and everything related, we are there for you.
Let's clear some air about mobile app development costs.
So let me give you an answer of what is app development cost? and the answer is there is no fixed cost. You should take it as a rule. This is the only rule that never changes. Other factors come in the later stages to determine the actual cost.
Building up a mobile app is constantly influenced by different elements. These elements are practically different stages you need to focus on. They can vary from the highlights you need, the plans you need to execute, the advancement group you are picking, to all other fundamentals you will be needed to focus on. everything comes together to give you the mobile app you have dreamt of for so long.
Once you have decided to take this plunge, you are now ready to know what exactly are the real factors that are going to determine the cost for your app development process.
Platforms you wish to target
This is probably the most important factor when it comes to determining your app development costs. Yes, the cost of your mobile app is going to vary as the platform varies. The platform you are depending on is going to target your app development costs directly.
There are over 16 platforms to choose from, out of which 96% share is taken by iOS and Android.
Whether the app is going to support purely iOS platforms or even Android platforms is once deciding factor here. The more platforms you want your app to support, the more it would cost.
Data storage solutions
Your mobile app definitely contains some images and texts that are going to take some space in the smartphone they are being used on. This data, the images, texts, videos and everything else is also going to determine the final cost you will have to shell out to build that mobile app.
If you are planning to include such data in your mobile app, you must also be planning to include methods to compress the same. Building compression solutions in your mobile app during its development stages are not just going to cost you at that moment but will end up acting like an investment in the long run. Why? Because of the fact that it is going to save you so much later.
Designs you choose
The way your mobile app is designed is what sets it apart from other apps on the market. There are thousands of mobile apps on the market today, serving the same functions. How will people remember yours? This is where the designing aspect comes in.
An average app design is going to cost you much less than an app designed with perfection, of course. You could be using simple design ideas, yet make your mobile app appear attractive to the public at large. Or you could make complex design ideas, spend a lot and still not make it worth using.
The choice completely depends on your creative forte. Hiring someone who knows what they are doing with the creative aspects might cost you more but it ends going to be an investment, again.
Features it is going to serve.
The most important and cost influencing factor for mobile app development is the multiple features and user experiences it is going to serve. A simple mobile app could work wonders for a user by working out multiple features and functionalities for them.
It all depends on the features you are integrating into them. And yes, as the rule goes – The more the features your application boasts, the more it is going to cost.
Hardware specs
A modern day smartphone is loaded with distinct hardware components that can take your app development costs a notch up. The hardware components like accelerometers, heart rate sensors, Bluetooth, gyroscope, NFC, GPS, barometers, etc. can determine the final cost.
As a mobile app development company, you need to focus on finding the right way to ensure your mobile app prototype works on each and every device in the same manner. Your mobile app should be compatible with all device types and manufacturers out there. Your software, therefore, must complement and communicate with all kinds of hardware components equally.
Your business model
The basic goal of your business or the model as we put it here is one of the key factors for determining the actual cost of your mobile app. The ultimate goal of your business model is, of course, no doubt, to generate profits and revenues.
The cost of your mobile app, therefore, depends completely on this fact. Whether you are offering your mobile app for free, or you are charging some extra money to download the same, or simply adding extra stuff and features to your mobile app for in-app purchasing, every single piece of information adds up to your cost.
In most cases, apps that provide in-app purchasing options might take long implementation processes and increase their costs at the same time.
These were some of the most basic factors that add up to your final app development cost. However, there are a few more incognito factors that determine the final cost as well.
These are some of the factors that people often ignore when it comes to setting a budget for your app development process. What are these costs? Let's find out.
App maintenance
For an app to be fully working all the time it needs to be maintained regularly. This is why the final cost of developing an app can never be determined. It keeps changing. Maintenance of your mobile app is essential as well. Usually, app maintenance can cost an average mobile app development company around 20 percent of the total cost of the mobile app developed.
Therefore, if you are developing a mobile app worth $200,000, you might have to shell out a further amount of $40,000 to maintain it, every single year.
This maintenance plan should include not just the adaptability of your mobile app to newer trends and new smartphone models, but also include new features, new ways to solve the bugs and other technical glitches.
Testing your mobile app
Once your prototype mobile app is ready, it is made to undergo certain tests to ensure it works just fine. The testing component is often underestimated. People do not really consider the time, money and energy involved in this step which can ultimately lead to an increase in your overall app development cost.
Must read: Top 10 Mobile App testing tools in Android & iOS
You will be seen spending about 40 percent of your app development budget on just testing alone. Yes, it is expensive and time-consuming
Deployment process
Deployment of your mobile app, though a small step, might take some of your app development budget. For making sure the Google play store and the Apple app store are hosting your mobile app, you need to take a few licenses from these big sharks.
A one-time registration fee of about $25 is charged before you can upload your mobile app on the Google play store. At the same time, Apple's app store charges $99 per annum for the same. Microsoft, on the other hand, charges a pretty similar amount as well.
Marketing your app the right way
This is the final plunge you need to take to ensure your app is popularised among the masses before it even hits the market. Marketing is the one feature that can help you reach this ultimate goal. Your mobile app needs to take the attention of the crowd and therefore, a major share of your app development budget goes into the marketing process. Without marketing your app properly, you are not going to be able to make your app visible to most people. These costs though not fixed, can vary as per the channel of marketing you are choosing.
Basically, people need to break the myth that app development costs are directly proportional to the cost of the actual development process. Step by step, the cost increases, and it is necessary! Each step, though increasing your budget is going to enhance your app even further. You need to take that fall once and see yourself becoming successful in the eyes of the people! It is just the beginning.
Watch this video to know how much it will cost to build an app?