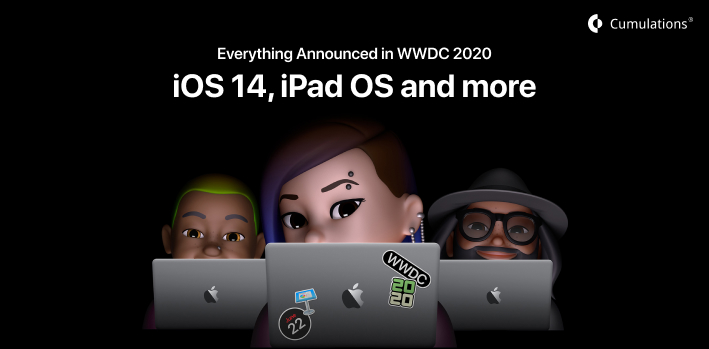 Apple has started its annual WorldWide Developers Conference on Monday, June 22. WWDC is generally organized in March, however, the outbreak of Coronavirus has led the event possible on June 22nd via a new all-digital format. Thus, instead of greeting the crowd every year, the CEO welcomed viewers during the opening keynote on a Monday morning.
Much like every year, WWDC focuses more on software updates with some additional new hardware versions. As expected, the tech giants have once again flipped the tech-based world with the announcement of revolutionary Apple Silicon chips, iOS14, WatchOS 7, and many more. 
Major announcements made at the WWDC 2020
App Library
One of the major headlines in the WWDC 2020 event was the App Library view. This particular feature of iOS 14 is what the previous versions of iOS couldn't offer. The new addition of the App library view enables the users to arrange their apps that are dispersed on the separate pages of their home screen into groups. You can also select the number of pages that you want to be displayed onto the home screen while the remaining apps will be assorted as "Suggestions and "Recently added". With the given search option, you can easily search the apps which are listed alphabetically. The experience is quite similar to having an app drawer with all the necessary Apple smartness included.
iOS 14 Widgets
Along with many other features, iOS14 finally brings redesigned widgets to the home screen. In the virtual keynote of WWDC 2020, Apple shared details about the most visual change in a home screen, the widgets. Although, the widgets will nevertheless appear on the left side of the home screen and a user would be able to drag and drop them as they please. Once you have added the widgets from the widget library onto your home screen, you can also adjust their sizes according to your needs. Furthermore, Apple has introduced a smart stack feature that does not allow you to place numerous widgets in a single swipeable space.
Picture in Picture
Apple has also added system-wide picture-in-picture in iOS14 which was already available in iPads. Similar to the MacOS, picture-in-picture is a great convenience feature that allows you to watch a video in a thumbnail size or any other size that you want to adjust the video in. The feature lets the videos to linger around over apps while you open a different window or scroll around a news story. So in the future, you would be able to text or email your people while watching the video on the main screen. 
Picture-in-Picture will be compatible with apps such as-
Apple TV

Podcasts

Safari

FaceTime

iTunes

Home
Offline Translate app
The latest inclusion in the iOS14 is a "Translate" app. As the name suggests itself, the translate app will allow Siri to translate conversations using both voice and texts. All of the 11 different languages of translation are processed with the help of Apple's artificial neural engine, thus allowing the app to work offline. Furthermore, users would be able to save any of their desired translations in the tab displayed as "recent history".
Apple Carplay
Apple CarPlay is the latest one in the list of new upgrades in iOS14. Apple announced the inclusion of CarPlay to iOS14 which enables the iPhones to be used as digital car keys. With just a simple tap on the screen, you would be able to unlock and start the car while your phone is on the charging pad. To get started, a driver must pair their Apple Watch or iPhone with a car that supports this new feature dubbed as Carkey. Each time the drivers approach their car to unlock or start, they might have to go through a face scan or fingerprint scan. As expected, BMW 5-series is the first to volunteer with an Apple CarKey that will be available from July this year.
App clips
Apple has introduced App clips for the new iOS14 at the WWDC 2020. App clips can be defined as the snippets of an app that allows the user to preview or interact with apps without having to download it. The new feature lets the user view the information and discover the app store without jumbling the home screen.
For example, whenever an iPhone with iOS14 scans any Qr code or NFC tags, the iPhone shall launch the App Clip card. As per the reports, App clips can also be opened via iMessage, maps, and Safari. This app will be less than 10 MB in size.
Incoming calls as notification
There was a time when an incoming call used to hijack the screen and interrupt so many important things you were doing but not anymore. Apple has finally upgraded the display of an incoming call on the iPad and iPhone. With the new iOS14 update, now the incoming calls will appear as normal notification alerts as others on the top of your phone screen. So the reality is that with just a simple tap on the holy button you can accept or reject calls.
No full screen for Siri
In the iOS14 upgrade, whenever you want to summon the legendary digital assistant known as Siri, it won't take over your screen this time. Instead, just like the call notification, Siri will appear in a notification window at the top of your screen. While in the bottom part of the screen, ios14 will display an icon to notify you that Siri is there for you. Furthermore, Siri will be extremely helpful in showing you any widgets as needed. Apple has successfully tweaked Siri in such a way that the digital assistant can help iOS14 users to efficiently multitask while watching videos or taking calls.
WatchOS7
Although WatchOS7 is now available in developer beta, however soon it will be able to track your sleep as it was the most demanded feature. Along with many other features, watchOS7 certainly aimed to redefine itself from the previous year's version. The latest version brings a set of new features such as fitness app, sleep app, and handwash detectors.
Due to the recent COVID-19 pandemic, Apple has stressed its priority upon hygiene by introducing a new handwash detector. The detector would be able to identify the sound of water and the movements of hands to check if you are washing your hand or not. There will also be a countdown alert to let you know how long you need to wash your hands for as well as a sound and a vibration to tell you when are done.
macOS Big Sur
When you update your machine to the newest macOS version, get ready to be greeted by an absolute redesign version called Big Sur. Along with a new design, Mac Os X Big Sur comes with new icons, app updates for pre-installed apps, and smoother animations. The macOS will now have a more sophisticated menu bar, widgets, notification center along with a control center like iPhones.
In the new macOS Big Sur version, the safari browser will work best at loading websites that are frequently visited with newly enhanced privacy features. Make no mistake as this is the biggest update the Mac operating system has received in a long time.
Privacy and App control
With the newly enhanced privacy features in iOS14, Apple apps have given a free hand to its users to make their own choice. With just a simple pop-up notification, Apple apps will allow you to ask apps whether they could track you or not. At WWDC 2020, Apple announced that they will also notify you whenever you are about to download a new app that may share your data, with simple app descriptions.
Apple Silicon
On Monday at the WWDC 2020, Apple confirmed long-awaited reports that the company is ditching Intel processors for its ARM-based chips to power Macs and Macbooks. Apple's silicon project has been working on creating high-performance processors with low power consumption that aimed at "great for gaming". Apple has also announced the successor to the original Rosetta emulation software called Rosetta 2 which will be used to modify apps to make them run on ARM-based chips. Co-incidentally, Rosetta was released around the time when Apple went through its first transition from PowerPC chips to Intel. As of now, many Intel-based macs are still around so the full transition from Intel to Silicon will eventually take up 2 years.
Emulate Old Apps
Aside from many other announcements, Apple has put all the confusion regarding the integration of Mac OS X and iOS. At WDDC 2020, Apple announced that iPad and iPhone apps are compatible to run natively on Mac OS without any modification. Since the iOS apps were built on the same ARM-based chips as the new Mac hardware, the apps will have no problem operating in new hardware. To prove it right, Apple showed off a demo where iOS apps like Fender play, Mount Valley, and Calm are running moderately smooth on Mac OS. Since the Mac OS is compatible to run in desktop as well as mobile apps, the number of quality apps will only surge.