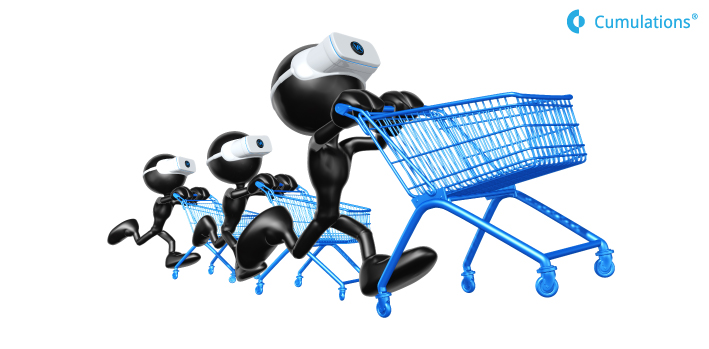 Life is fast paced and consumers want everything in a jiffy. It doesn't matter what the task is, the only aim is, it should be done quickly and easily. It's here that Augmented Reality becomes important especially for the retail business. For the uninitiated- "Augmented Reality is a live direct or indirect view of a physical, real-world environment whose elements are augmented (or supplemented) by computer-generated sensory inputs such as sound, video, graphics or GPS data." In other words, Augmented Reality is a blend of the real world and virtual world. AR is quickly consuming the retail market space and retailers are quick to adopt the technology to further their business. All one needs to do to make use of the AR technology is to use AR specific apps and the camera of one's phone. Yes, it's that simple!
There are some AR trends that are picking up the pace and a recent study states that the AR revenue would reach a whopping $90 billion by 2020.
Read on to know about some of the upcoming AR trends:
AR Product Support: Currently all support functionalities are carried out over the phone by support personnel's and you would agree that it's quite a cumbersome process. And for touch and tricky problems, you would have no choice but to wait for the technician to be at your doorstep. For example, you are stuck with your car and maybe need some minor fix. But with little or no knowledge of the car, you would not know what exactly to do. In a situation like that, you would have just one way out wait for the technician to turn up even if he takes an eternity. In a situation like this Augmented Reality would be a lifesaver. All you would need to do is place your camera over your car's open bonnet and with the AR assisted auto-repair app you would be directed to the relevant areas of your car and do a quick check on any minor faults which you can take care of easily.
GPS Turn-by-turn Navigation: Another great use of the AR technology is the GPS Turn-by-turn Navigation. Presently you would need to take your eyes off the road even if it's for a split second to view the GPS directions. But with the help of AR, there would be navigation overlays helping drivers understand turns and blockers easily without having to look hard at Google maps.
AR Blueprints for Construction: The AR technology for the construction business is also picking up pace. For ages constructions, workers and engineers have been working on cumbersome blueprints before construction. And if changes were to be made, the blueprints needed to be redone in turn reducing productivity. But with the help of the AR technology, blueprints can be overlayed on the construction site right in front of you along with defined instructions on how specific should the construction be done.
Moving on, apart from these trends shoppers also get quite lucky with the AR technology. After all, it makes the shopping experience more exciting, easy and less time-consuming. Still wondering how? Here are a few examples-
Lenskart one of the biggest online eyewear stores uses the augmented reality technology. Buying frames that would suit your face is a tough task especially if you are doing so without being able to try them on. But lenskart allows you to try them through the AR technology. Simply upload a picture of yours, preferably a close-up shot and then click 'try on' for each frame. Through AR each of these frames is placed on your digitally and voila choosing couldn't get any easier.
We all have been shopping online but the trouble in terms of fitting and most importantly how we'll look in a piece of clothing still confuses us. It's here that the technology of Augmented Reality again solves this hassle with aplomb. If an online app has the AR feature you can simply put in your structure details like height and weight as desired by the app and a digital model of yours is made. Once done, simply try on the clothes you like on the digital image and choose the right piece of clothing with ease. In the retail store to the augmented reality technology is quickly becoming a hit. Some retail stores are putting up AR kiosks where the customers require to stand in front of the digital mirror and by using hand gestures try on the clothes which would be superimposed on them. This not only makes shopping easy but also minimizes the hassle of standing in long queues for the trial rooms.
A similar technology has also been used by a well-known brand, IKEA the famous furniture store. A Customer requires to use the IKEA catalog as the size reference and the IKEA app blows up the images of the furniture into life-size images. Customers can then look through their phones and view how each piece of furniture would look inside their homes. Isn't that cool!