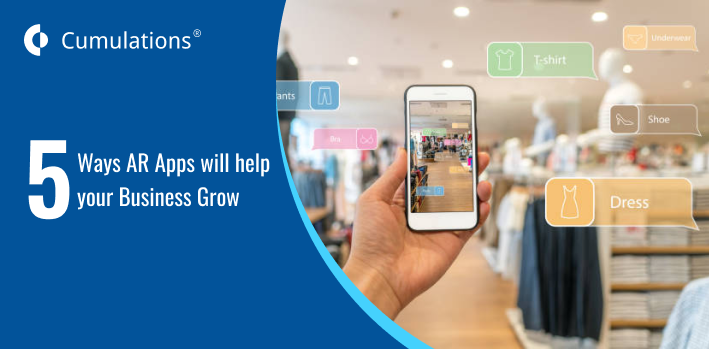 The modern-day business world has experienced changes due to the introduction of Augmented Reality technologies. It has a great impact on different industrial departments assisting businesses to change the way companies accomplish business tasks. It results in better productivity for the company by reducing overhead expenses. Therefore, AR can be considered as an effective economic driver that will be beneficial for the tech world.
1. AR apps helps in offer better user experience
In marketing, technology has a good role to play, but it should not drive your decisions. Instead, you should make the right decision that will help to enhance the user experience of an online store. Though, augmented reality adds value to how the online business is run. But it should be relevant to the site. So, it is necessary that clients should work for offering better customer experience before anything else. By adding technology, clients should try to make the most use of offering a better customer experience. Even with the help of technology, customers can easily try out a pair of sneakers when shopping via the online app. It makes shopping more fun and efficient with the help of this technology. 
To create a three-dimensional shop, the AR technology can be of immense help. It boosts the virtual experience of the shop. This ultimately adds to better customer satisfaction if they wish to buy from your retail store. 
2. Helps in interior designing 
For interior designing and modeling, the AR technology helps. With this technology, clients are able to offer side-by-side visualization of old and new products. This enables customers to quickly understand the right product to pick from. For better product designing and making it eye-catching for the customers, using the latest technology will be helpful. It enhances a better view and functionality of the product when presented to its end users.
3. Impact of AR technology in education and training process
This technology has gained great momentum in the education and medical industry. The 3D anatomy program gives a better virtual impact allowing a deeper drive to know about the human body. Even the technology helps in training employees and students in higher levels of education, giving an immersive and better experience compared to the traditional method of training. This helps to have a depth of training and quick mastery of the art. By introducing this technology in classroom sessions, it can be made more interactive and engaging for learners. Students can download apps and get better access to information on their mobile phones. Thus, it helps in better understanding of any subject.
Even in corporate training, there is a great influence of AR technology. It offers team members a fast and detailed solution. It also enables offering better practical experience over theoretical knowledge to the trainees. For better results, the AR-based training will be beneficial, offering fast learning curve for the employees.
4. Result of AR technology on manufacturing 
To accelerate the business process from the manufacturing level, the AR can help better. For better managing of work progress, the technology helps the project manager. The AR technology can be used as markers on equipment used in work. Also, it helps save time when done using digital plants and maps. Therefore, this speeds up the whole process of manufacturing, resulting in the fast delivery of products and services.
5. How travel and tourism are benefited from this technology?
Tourists can easily find routes with the help of GPS mobile apps. It helps to show the routes, destinations and indicates street signs with better information about the routes. Therefore, for developing a GPS navigation app, using the AR feature shall help users in this competitive market. Thus, it can be seen that AR technology has a lot to offer to the tourism department. Street signs, road maps and better options for exploring the city, the technology is great to use.
Other uses of AR in different sectors 
To develop a buzz in your business that shall help to grab the attention of your customers and stay ahead of the competition, incorporating features of AR technology shall help. By using augmented reality, it helps in creating the buzz as social sharing helps in getting the attraction of new customers.
Even if you want to personalization settings in your business, it is possible to make it more engaging compared to others. With the help of AR, it also enables creating better quality content that will help customers to know better about the company products and services. By making the website an interactive one, it becomes more engaging. It enables easy navigation of users when they are using it on mobile applications.
How the real estate industry from AR technology?
According to studies, it can be said that most of the customers search online for real estate properties. Even it is seen that most of the online buyers get succeed in buying their ideal homes online. Therefore, online is the ideal platform where buyers can get access to plenty of options to choose from. Here, both renters and buyers are in search of a new property. Here, AR has a lot to offer. For the customers to have a better experience of buying a home, the technology is of great help. It saves time both for the realtors and clients get hands-on the right property. With the help of suitable images of the property, it becomes easy for the clients to understand the property better.   
With the changing scenario of the E-commerce world, augmented reality has a better influence. More apps are increasingly used across different platforms and this is sure to grow in recent times. The technology has found its usage in different industries for the benefit of the users.
The Closure 
Therefore, the augmented reality technology has offered a lot to different sectors. Yet it is left to offer many other opportunities for better future developments. It is sure to come up with extended functionality in mobile phones and tablets. With the use of the right app, it is possible to get better attention of the target group.