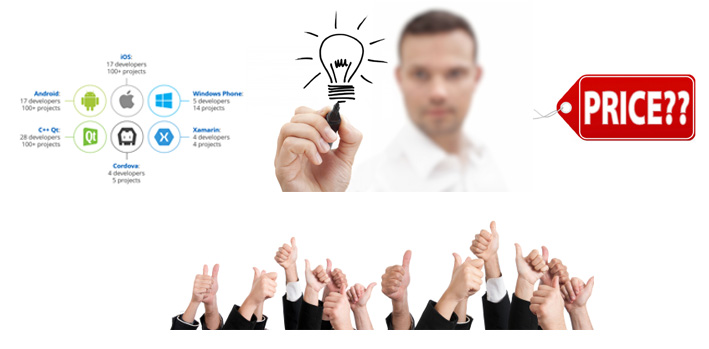 Developing an app for mobile can be a tricky business. In a market that, today, is constantly dynamic and changing, creating an app can prove to be fruitful or a complete catastrophe. A market that is so competitive and easy to break into, most organizations today look into tapping the app industry. And why not? If tackled correctly, it could prove to be highly profitable.
The challenge here is creating an app that will be used in the long run and that comes down to high-end optimization and user experience. With that in mind, it truly comes down to choosing a mobile application development firms that will stick to such basics. After all, an app is only ever as good as the experience provided. This means, that if you're a company looking to create an app and are in need of the developer, it is highly crucial to find the right one.
Finding the right mobile app development team can be a daunting task but can also add value in more ways than just development, which will surely help you maximize revenues for your app business and secure a future for it. So comes the task of having to look for the right mobile app developer. We've taken a few steps here and come up with a checklist to evaluate the right mobile app developer to create your dream app:
     1. Check Out Their Portfolio
It's always good to do a background check on the work that was done previously. Such a factor could be key in deciding to hire mobile app development company in bangalore that you wish to work with. A good development team must have exceptional skills in UI/UX. A portfolio may also give you better clarity as to what genre of applications such developers prefer and could help you in deciding.
     2. Check Client References
 It is always recommended to look out for mobile app developers that come with high regard. By this, look for firms that are willing to extend contact information from other clients. This will give you the feedback you're looking for and help you determine the mobile app development firm for you.
     3. Cheap Doesn't Mean Better
 It's fair to look at the best possible price on the market in terms of hiring. But it's advisable to widen your horizons in this case. Do not let the price quoted be the deciding factor when choosing your mobile app development company. What you want is a quality app, not one that's cheap. Always keep that in mind.
     4. Are they open to Ideas?
It's key to choose a mobile application development organization that's flexible and caters to your vision. Some mobile app developers will have a completely different vision as to how they see your app. This can sometimes collide with yours. It may not necessarily be a bad thing, but it's always great to have a developer that's welcoming of new ideas. This makes for a much needed collaborative effort.
       5. Are They Interested in Your Business?
It's easy to find a mobile app developer. It's difficult to find the right one though. This is where another factor comes into play. It's recommended to select one that's more interested in your line of work. Just hiring any mobile app development team available will hinder your production process in a way that you'll not just end up shipping out a halfhearted app, but quite possibly an incomplete one too and this could be potentially damaging for the future. The good mobile app development companies usually know what works and what doesn't on the app store because they've worked with many clients.
       6. Platform of Choice
This can be a rather tricky question to ask when looking to hire your potential mobile app development, partners. The app market is divided primarily between the app store owned by Apple and the play store by Google. Both have their fair share of fans and dedicated users.
The crucial element is deciding which market you wish to cater to. Some choose one, some choose both. It's key to find out which market your mobile app developer prefers as this could affect user experience on either platform based on platform preference.
     7. Project Management
Will they stick to their development timelines? Will they deliver the final product on launch date? Will they continue to support the product post launch? Will updates be rolled out on a particular time frame?
These are guidelines that usually match the organizations in terms of both management and expectations. A good mobile app development team will seek to match application management capabilities with your organization's policies and procedures, and enable you to track results.
      8. Keep Design in Mind
User experience is just one part of the bigger picture. Consumers today are bombarded with different applications providing the same service. There is hence, a choice available. With that choice brings about a preference based on a number of factors beyond the most basic being the experience provided. There are also aesthetics that add to the overall experience. This is where design comes into play.
Creating an app that provides a great experience is one thing. Creating one that looks good while doing it is even better. It is imperative to choose a mobile app development firms that also looks into such aesthetics while developing an application.
     9. Look to build a relationship
It's great to have someone who knows and enjoys the way you work. By this, it means that in time, it is always good to build a relationship with the mobile app developer that you eventually decide to choose. This could speak benefits on a number of levels. Firstly, there's a high chance you could retain that mobile developer for the future and eventually absorb them into your organization if needed. Secondly, maintaining a good relationship is good because Mobile developers themselves could recommend others to work with you in the future. Good references.
       10. Experience
 We've covered the basics in the portfolio section. What also counts is a mobile application developer's experience. How long have they been in the industry? What sectors have they worked in? Such questions will only seek to answer if they correlate with you and the industry you're in. The time they've been in the industry will also determine the experience they possess in delivering a quality product to the masses.
We at Cumulations Technologies strictly adhere to this Checklist which we have developed over years of experience of dealing with clients and the results have been phenomenal as we have got very good feedback from clients both large businesses and start-ups. These process parameters are very engaging, tailor made to clients ever changing business needs in the uncertain outcome of this increasingly complex world.
If you are searching for ReactJs Development Company for your upcoming project, please contact Cumulations.
Related read: Cumulations Adopts Swift for iOS App Development