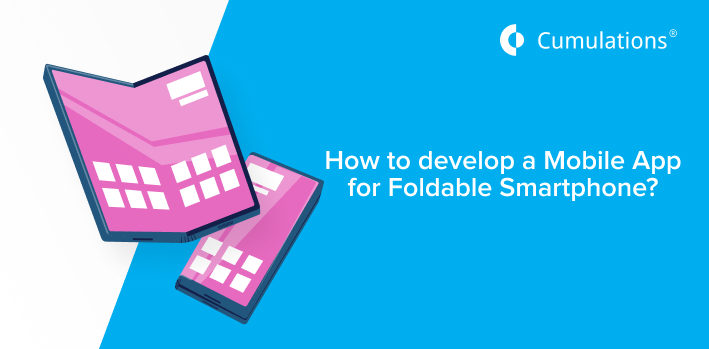 Technology in mobile phones is undergoing a twisted development stage, where one gets to see smartphones becoming smarter and smarter. These days, it is the foldable smartphones that are raising the eyebrows. They are made of flexible display technology that incorporates electronic visual presentation. And there is an emergence of experts to develop a mobile app for such screens. Recent years have witnessed the fact that people are getting drawn towards flexible display options in e-readers, smartphones, and other devices. Flexible displays make use of electronic paper technology, having Electrophoretic or Electro-wetting expertise. Nonetheless, every flexible electronic paper differs in design because of varied execution techniques by diverse companies.
The specialized screens are manufactured by piling stacks of semi-conductor materials and metals amid flexible plastic sheets. The mounds need to be impeccably aligned and retained similarly. The SAIL (Self-Aligned Imprint Lithography) procedure works by 'printing' the semi-conductor pattern on a composed substrate for the perfect alignment of the layers.  The constraint of the material, on which the screen is based, permits a limited amount of full rolls. This makes it a commercial application to be limited. This technology has been gradual, taking smartphones with a bang. And it is Samsung that has been the prominent one in making foldable smartphones.
Foldable phones are intended to have more space allowing developers to create great apps giving qualitative experiences for all the diverse forms of multi-window. Foremost, it should be noted that video streaming apps can utilize the amplified screen size for showing videos in a larger angle. Along with this, another benefit for developing a mobile app for foldable smartphones is that they get the better visual appeal. On the other hand, the banking apps in such phones will open information regarding multiple accounts in the multi-window app screen. Now, this gives a cutting edge to foldable phones over single screen smartphones.
As per the trends set by technical advancements, the foldable phones will come with several alignments and aspect ratios having higher quality expectations as compared to other smartphones. The users would expect a hassle-free app flow in the foldable phones as they are used to such facilities in single screen phones. This makes it possible for the developers to meet the high-rising expectations of the users from app development for foldable phones' space. Also, the app development expert teams need to develop around numerous test cases for the proper functioning of apps on foldable phones. A poorly functional app is not accepted among the users, which may be harmful to the business for sure. 
Improving apps for hassle-free functioning in foldable phones would require a lot of design, development, and testing stages. The foldable phones look like old flip phones. The idea is to accumulate a smartphone and a tablet into a single framework. It needs to be understood that a foldable smartphone functions similar to existing smartphones that offer considerable screen experience to the users without a doubt. For this reason, the app developers have to be extra cautious in developing applications for foldable phones. They ensure that the apps do not come across operational hazards. 
Developing Apps for Foldable Smartphones:
Though, the foldable devices bring specific challenges for developers to develop apps as per screen sizes and user experience of the application. To create apps that adapt to multiple screen sizes and configurations, the developers are required to grasp the tactics thoroughly. 
First of all, it is essential to know that there are two states in every foldable smartphone, such as unfolded (primary) and folded (cover) screens. In the former one, the phone transforms into a tablet to give an enriched viewing experience. This extra space can be utilized for giving better context and toting secondary actions to the apps. On the other side, the foldable state acts like a conventional smartphone that is operated normally.

The app development in the smartphones with folding or unfolding process mandates for modifications in the configuration system. It has an additional feature, which allows automatic resizing of the apps that do not support multi-window. At the time of changes occurring in the configuration, the default case abolishes the entire activity and recreates itself further.

The best thing about app development in foldable smartphones is that it allows more effortless multitasking on the device. This means that the designers will have to prepare for the time slot allowing one application with its design to be shared with another one. Such sharing would be a part of the multi-window life cycle as well.
Well, Android Pie gave the upkeep of the multi-resume functional aspect in the app development. It depends on the app developer and OEM's (Original Equipment Manufacturer) for integrating it into the work development process of an app or not. Along with this, Android Q is likely to give multi-resume as a compulsory prospect. Multi resuming tactics in foldable smartphones are considered to be a technological transformation.

As per the expected brilliance of foldable phones, the app will be running on both display screens. This calls for adding a resource folder to show high-quality content. As the developers create a mobile app for a foldable smartphone, they must maintain the required screen space for applications.

It is quite evident that people using foldable smartphones would expect that the apps on the devices should function properly. A slow app will not be of any interest to the users. This is the reason that testing apps, after development, on a foldable device is essential. It can be done by running a foldable emulator too.  
Foldable smartphones depend on flexible OLED display technology, which is quite thinner than usual smartphone screen panels. This technology has been used to make smartphones and smartwatches thinner. For example, The Apple Watch makes use of a non-bendable flexible display as it is covered by sturdy sapphire crystal.
Related read:  App Development Guide: How long does it take to make an app?.
The flexible displays of foldable smartphones are usually enclosed by a plastic layer, which can be itched or speared easily than the robust glass shielding customary phone displays. Another thing to note in the foldable smartphones is that the visible screen over the display interrupts visual appeal. 
Conclusion:
Keeping these things in mind, the developers creating a mobile app for foldable smartphones should be on-point with their technical skills. Also, new technologies should be integrated into the working modules for developing smoothly functional apps for foldable phones. After all, foldable smartphones are the next-generation devices to rule the digital world.