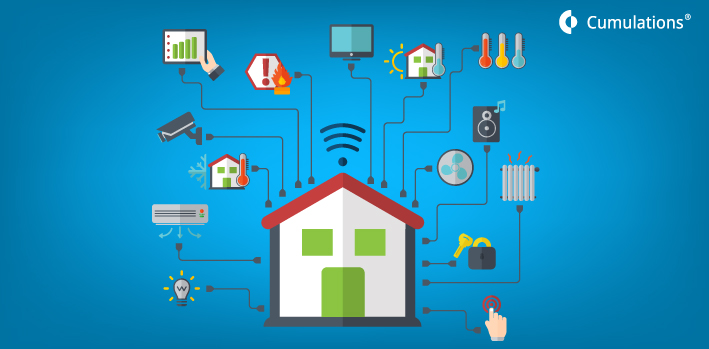 Home automation is no more a sophisticated concept. It has evolved so much that now anyone can integrate home automation elements in their houses. Expensive and complete smart home solutions are not the only way to add automation. There are smart switches, smart door locks and other similar smart gadgets that can be incorporated.
What is so special about home automation? Partial or full automation of the home would allow you to control one or all devices from one place. With your smartphone or with a master control hub, you would be able to easily operate these devices. Wouldn't this make life more comfortable? Not just that- you also get an extra level of security.
Who turned off the light?
That is one question that everyone asks the moment they are out of the house. Getting back and checking all the lights is old fashioned. Turning them off in just one click on your smartphone is the new thing! This is why you need smart switches and smart lighting systems. There are sophisticated systems that can do than just turning the lights on or off. You could set timers, dim or brighten the lights and do a lot more with just your smartphone. Taking lighting a step further, you could also open or close all the blinds and thus even control the ambient lighting in the rooms.
Lower energy bills every time:
Are your thermostats causing your energy bills to shoot up? Then smart thermostats are what you need. Another tweak is to include smart home heating solutions. The nest is a device that made a prominent mark in home automation solutions. Since then, there has been a long line of smart thermostats in the market that can tap the full potential of sensors to monitor and track the usage patterns. The system learns and adapts to set the temperatures accordingly. So you do not have to step into a cold room ever again nor would you have to worry about the heater or cooler staying on in a room after you leave.
Smart security solutions:
Security is one of the biggest benefits that home automation offers. There are some inexpensive surveillance camera systems that can be installed on the house or outside. So you would be able to monitor your house from your smartphone even when you are away. There are systems that come with motion sensors that can notify you of emails or messages whenever any movement or noise is sensed in a set perimeter. You can also receive a video clip of who or what caused the movement. This is the next level of security any home owner would love to install especially when they leave town or stay away from the house for longer hours. There are security agencies that have preset monthly plans which you could subscribe to, to get the surveillance videos recorded all day long.
Another integral feature of smart security systems is the smart locks that can be triggered from a smartphone. These locks could be remotely controlled with smartphone apps. So, you would never again have to stay in doubt as to whether you locked the main door when you left the house. If you have a sudden guest at home, or if you have a house-help arriving, you can let them in without having to physically be there or giving them a spare key. These locks often also come with key fobs that could be reconfigured.
Never leave your pet alone:
Another smart gadget that is gaining a steady popularity is the smart pet solutions including remote pet feeders and monitors. These allow the installation of cameras that also come with double-way audio feed so you could talk to your pet and hear what he is doing from wherever you are. You would also be able to remotely trigger the pet feeder during his mealtime or simply when you wish to give him a treat. You would also be able to monitor if your pet is creating any trouble at home or entering any off-limit area.
These applications are merely the tip of the iceberg. Home automation systems and smart home gadgets & appliances have a lot of scope for expansion. Home automation apps in smartphones would continue increasing as we move forward making lives easier and while also improving the quality of living!
Related read: Amazon alexa vs Google Home- which voice contol speaker is best for you