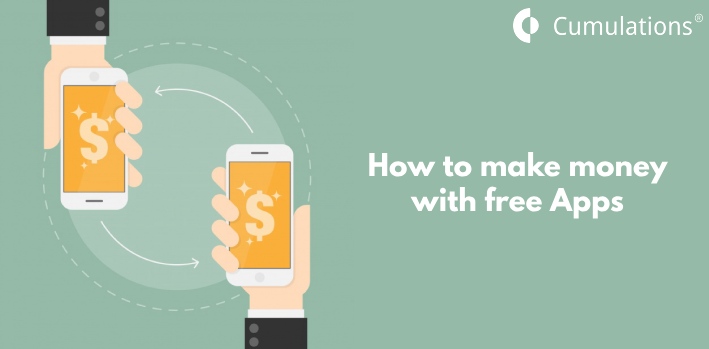 According to a report released by Google Play, 98% of the revenue worldwide comes from free apps.
The app stores today, both Android and iOS, are swarming with interactive apps. And the most intriguing fact about it is that most of the apps present there are absolutely free. This often makes entrepreneurs ponder over the most common question "how do free apps make money?"
Well, today we are here to address this query. We have compiled a list of the most popular and proven mobile app monetization tactics that can help you make money with free apps. Let's have a look.
App Monetization Strategies
1.Advertising
8 out of 10 app providers used this as their revenue model last year.
Advertising is perhaps the most common and convenient app monetization strategies that can be easily implemented by way of a third party ad network.
These advertisements can easily be integrated into the app source code and the app owner gets paid per click, per install or per visit. This is quite simple and offers a myriad of monetization prospects.
Broadly, there are four types of ads that are usually displayed by the app owners for the purpose of making money.
Interstitial ads are the ones that pop-up on the full screen, often after the completion of an activity. These ads can be closed by clicking on the close button on the upper right corner of the screen.
These are like banners that often keep popping up in small sizes on different parts of your app screen, such as top or bottom. These banner ads are less obtrusive and generally do not hamper the user's activity.
In-app video ads are like reward videos that automatically appear on the screen and offer prizes in exchange of watching. These are quite popular with gaming apps where the users can acquire app currency, which later can be used in unlocking special characters or any other additional features.
Native ads are incorporated into the apps in a way that they appear to be a natural element and do not obstruct the activities of the user. They are like paid content that appears in-feed and at the same time, is totally non-disruptive. For instance, suggested posts on Facebook, promoted tweets on Twitter.
2.Subscriptions
Subscriptions is a very effective app monetization strategy that allows the users to access the app content free of cost for a limited period of time. After the termination of that period, the users are charged a monthly/ annual subscription fee that permits them to access the complete content sans any restrictions.
This type of monetization strategy is quite popular with music streaming apps, cloud services and news services apps. They usually offer a trial period of one month after which a subscription fee is charged to those who wish to keep up with the services.
3.In-App Purchases
This is another popular form of app monetization that allows the users to purchase directly from within the app. This revenue model is generally used by gaming app publishers where the users can make in-app purchases to unlock special characters, buy gaming currency, powerups or other additional features.
This is a simple strategy that is relatively unobtrusive. Also, as per Forbes, this monetization tactic is known to generate the highest amounts of revenues.
4.Affiliate Marketing
Affiliate marketing is a monetization strategy that involves endorsing a third party product/ service in order to improve your own revenue opportunities. For instance, you can promote another app in return for a share of revenue depending upon the number of clicks or installs.  This strategy is further classified into several campaigns. Let's have a look at some of the most popular.
This revenue model implies that you get paid for every click you get on the ads that the displayed in your app.
This model is applied to video ads. The more video ads are viewed by the users, the more you get paid for it.
In this model, you get paid whenever a user installs the application that is advertised in your app.
If you wish to pursue this monetization strategy, there are several networks that you can join, such as Google AdMob, Adfonic or Flurry. Most of the ad networks support both iOS and Android apps.
5.Sponsorship
Sponsorships are certainly a good app monetization strategy; however, they are not very widespread. In this case, you need to look for sponsors who are addressing the same niche of users as your app. Thus, the best way to begin with this revenue model is compiling a list of companies along with their brands that can gain something from this strategic partnership.
Once you have found your sponsor, he will advertise your app under his own brand name since the targeted niche of users is essentially the same.
6.Selling Merchandise
Selling merchandise on your app is definitely an effective technique of monetizing. Fascinating gifts such as t-shirts, toys, cosmetic items, stationery, gift vouchers, etc. can prove to be helpful in generating additional income. This merchandise can be sold either from within the app or through email marketing.
7.Collecting and selling data
Nowadays, almost all apps collect a lot of user's data which represents their needs and preferences. This is important data that may be desired by different researchers in different fields.
Thus, the app owners can collect all the user's data that includes their email addresses, social media accounts, needs, buying patterns, and other preferences and later, sell this data to researchers in exchange for a substantial amount of money. Additionally, the app publishers can use the same data for their own purpose and display ads that are relevant to the target audience.
8.Email Marketing
Email marketing allows the app publishers reach their targeted users via email. In this, the users are requested to provide their email ids at the time of app login and later, they are contacted through email notifications. Even though this monetization strategy is not very prevalent, it is quite effective. The users who haven't operated their apps in the longest time can easily be approached through email and retained.
Some Important Tips for Choosing the Best App Monetization Strategy
Now that you are acquainted with the various monetization strategies, it is important to understand that choosing the right one for your business model is equally important. Here we have listed some important tips that should be borne in mind while monetizing your free app.
Consider the objectives of your app
Every app is created keeping in mind a specific problem that it will solve. Therefore, you need to choose the appropriate monetization plan that is well aligned with the purpose of your app.
For instance, if you have a live video streaming app, using in-app purchases as your monetization strategy will do no good to your app model. Instead, you can opt for advertisements or even go for a subscription model with a monthly or annual subscription fee.
Define your target audience
Clearly defining your target audience can help you in choosing the right monetization strategy for your free app. If you know who your audience is, you can draw a clearer picture of how much money will they be willing to spend and on what. This helps in developing the right app with the right monetization plan that closely matches the needs of the users.
Know your competition well
It is imperative to know about your competition before launching your mobile app if you wish to outshine them. Learning about your competitor's apps, the features they bring to the table, their monetization strategy, etc. can prove to be immensely beneficial. You can pick up from their experiences and finally launch a better and more effective app.
Final Thoughts
The main aim of your app should be to offer an optimal user experience. Too many intrusive ads, in-app purchase requests, email notifications may make it difficult for the users to keep using your app. Therefore, try to proffer a hassle-free experience by making all ads and offers as subtle and relevant as possible.