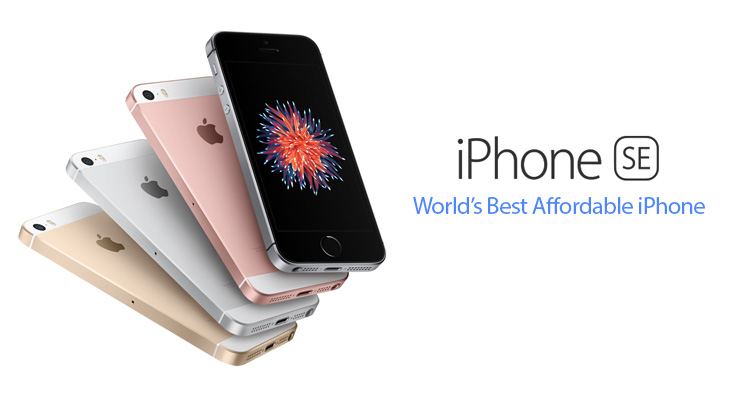 Apple introduces 4 inches iPhone SE at a special apple event on 21st March 2016. iPhone SE has surpassed version of iPhone 5s. It also includes few best features of iPhone 6s. "Some people simply love smaller phones.  Some people asked and pleaded with us.  Maybe it's their first iPhone so we're calling it the iPhone SE. The most powerful 4-inch  iPhone ever", says Greg Joswiak, VP of product marketing for Apple.
iPhone SE is a 4-inch phone with A9 chip and M9 motion processor, which is very powerful. It has 12 MP camera as iPhone 6S and doubles the speed of iPhone 5s. iPhone SE has the same GPU performance as iPhone 6s which is 3X better than iPhone 5s.  A9 motion processor embedded in iPhone SE enables tracking your fitness throughout the day and hand freely you can activate Siri by saying "Hey Siri".
iPhone SE comes with 12-megapixel iSight camera, it just works like iPhone 6s and brilliant high-resolution 4k videos. It supports amazing live photos, photos to life with sound and movement. FaceTime HD camera with Retina Flash brightens your selfies in the night and when there is low light. Your photos will be stored in the iCloud photo gallery. iPhone SE supports Touch ID. Your fingerprints act as the password, eventually nobody can steal your password hence it's high degree of security. Touch ID not only serves the purpose of phone password but also for apple pay, you can use it over two million stores and within apps.
Browse the web over 802.11 as Wi-Fi and LTE which is faster than iPhone 5s. It also supports voice over LTE and Wi-Fi calling. You can communicate with your external speakers, iWatch and other devices with the help of Bluetooth technology.
Apple iPhone SE will be available on 31st March in selected countries. India doesn't belong to the list but Apple said that phone will be available In India in early April. This iPhone will be known as world's first cheapest iPhone. The price would be $399 for 16GB and $499 for 64 GB globally.
For more information, visit: http://www.apple.com/shop/buy-iphone/iphone-se