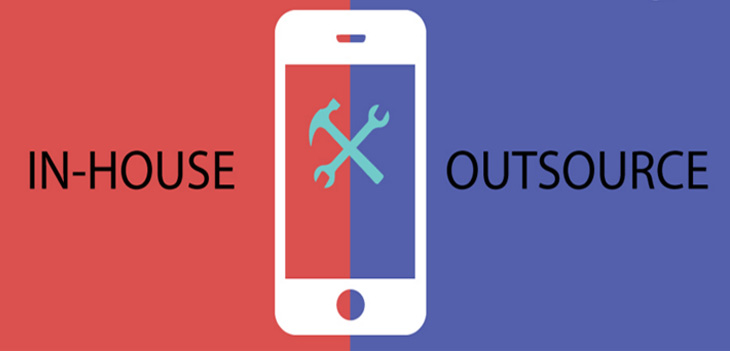 Before you plan to develop the mobile app, ask yourself these questions!
Should I hire developers or should I outsource?
What am I looking for in a developer?
How much time do I have to launch App?
If outsourced, do I have a technical team to judge how well code is written?
How important are collaboration and feedback to the success of my project?
Where does cost fit into the equation?
Answering these basic questions definitely will assist you in figuring out which choice is best.
Best solution for a start-up (Evaluate the outsourcing partner)
If the outsourced partner has relevant experience and the client communicate regularly, this relationship can last for long.
As expert level will be low in start-up, outsourcing might help them to overcome budget, timeline.
If a company is technology enabled with a head of product and selects a great outsourcing partner, then they can scale the company with an outsourced team. (sometimes firms will build small in-house development teams as they scale or often will buy out the outsourced.
So, why to outsource Mobile App Development?
1. Cost Savings
When you outsource the aspect which does not core to your company, which in this case is App development, then you will reduce the overhead, infrastructure, and resource cost.
When you outsource, you gain more efficiency and productivity, which simply translates to getting work done at lower cost along with higher productivity.
Outsourcing makes sense for cutting costs, reducing the workload on an employee.
The outsourced project may cost 75% less than the same project performed in-house in Western Europe or North America.
2. Time Savings
App development takes less time when people are working on your applications around the clock, so you can get your product to market more quickly than your competitors can. When you outsource, you don't have to spend time recruiting, hiring, training.
3. Lack of in-House expertise
In-house team of the company is not enough to globalize the company's business.
Outsourcing App development is easy to manage business worldwide.
Business applications will be more sound and systematic for an overall performance.
When you outsource your software development, you hand it over to people who are more experienced in this field. You will need to find resources or companies whose core is development. You need to appoint a single point of contact in your company, who can overlook the activities of the company to whom you have outsourced.
You have knowledgeable and experienced people who have got relevant skill sets on board. You can rely on them as they know the modern software development strategies.
You'll have immediate access to some of the best and brightest information technology professionals by going overseas and bypassing the gaps in hiring pools in more developed countries.
You will work with a team who tried-and-true process for developing applications.
4. Accurate
Offshore development will improve work accuracy in terms of given deadlines on a project. Defined software will deliver accurate results in less time.
5. Freedom from Tools and Licenses
Software development requires a lot of tools and licenses, which you simply cannot avoid. With the ever-evolving technologies, you will see that tools and licenses have an increasing demand. Again, you need to keep in mind when the licenses will expire, and what new tools you will need, in case you let the development occur in-house. Outsourcing has its benefits.
The outsourced mobile app development company in bangalore will take care of the tools and licenses, and you don't need to worry about something that you don't understand.
Conclusion
In general, to people who ask whether they should outsource development overseas or hire a developer, the right answer really depends on the situation.
Outsource if:
you don't have expertise.
You are a start-up.
you have a project deadline (no time for an experiment).
It's a temporary requirement.
the in-house team is overloaded.
In-house if:
Planned for a long run.
You have enough timeline to complete a project.
You have the team of expert.