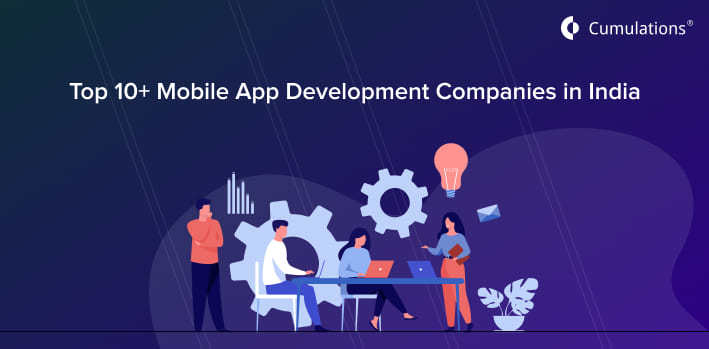 Over the years, India has come up as the top choice among entrepreneurs looking to develop a robust and scalable mobile app solution. The fact that India offers exceptional results with minimum investment has contributed to its unprecedented popularity. 
There are a plethora of mobile app development companies in India that possess a peerless skill set and unmatched ingenuity. These agencies hire a consortium of professional and dedicated mobile app developers who employ various tools and technologies to build feature-packed apps. 
Here, we help you find out the best mobile app development company in India that can design and develop a smart digital product for your business by leveraging the best tools, technologies, and resources. Our listings are based on numerous factors like the company's profile, reputation, experience level, customer reviews, portfolio, etc.  
Apart from identifying the best mobile app development company, we will help you understand the different types of mobile apps, why outsourcing app development services is the best solution, the cost of app development, and much more. 
Classification of Mobile Apps
Mobile applications can be classified into three types: native, web, and hybrid. Let us quickly look at each type to decide the best one for your needs. 
Native Apps
Native apps are built for one specific mobile operating system. For instance, an Android native app cannot work on iOS and vice versa. You need a separate app for running on each platform. Because native apps are programmed for individual operating systems, these apps deliver unparalleled performance and speed. Also, these apps are downloaded directly from the app store. 
Web Apps
Web apps are responsive versions of your website that can work on any mobile device or operating system. Unlike native apps, they are not downloaded from the app store and accessed via the mobile's web browser. Whenever you install a web app, you essentially bookmark the website URL on your device. 
Hybrid Apps
Hybrid apps are a seamless combination of native and web apps. They are fundamentally web apps that look and feel like native applications. They can be downloaded from the app store and might have a home screen app icon. Hybrid apps are best known for their fast performance, responsive design, and ability to work even when offline. 
Benefits of Mobile App Development Company in India
Better cost to profit ratio: Mobile app development companies in India are often the most reliable and cost-effective solution as they work at extremely competitive prices as compared to their western counterparts. Most skilled app developers in India charge around $20 to $70 per hour which is comparatively less than US-based developers who charge around $50 to $250 per hour. The exceptional ability of Indian app developers to build apps frugally has earned them worldwide popularity. 

Availability of technical expertise and resources: This is a huge benefit of partnering with Indian app development companies. They employ the latest tools and technologies to develop apps that are of world-class standards. They are highly professional and experienced in their field and guarantee optimal outcomes. 

Tuned workflow: With a professional mobile app development company in India, you can benefit from a well-defined workflow that ensures smooth operations. In case of any query or problem, you can easily get in touch with a responsible team member who can offer a satisfactory response to all your queries. 

Round the clock team support: With Indian companies, you can be assured of complete customer care, even during odd hours. They are always available to handle your requests and deliver quick services. Furthermore, these companies offer flexible working hours to make sure that the communication process is not interrupted due to differences in time zones. 

A plethora of options to choose from: India is an emerging marketplace with a wide range of app development companies offering expert services. This has increased the level of competition amongst the various firms, which in turn has improved the quality of apps. So with Indian app developers, you can be assured of a high-end deliverable. 

Strict adherence to timelines: All app development companies in India work with a full-fledged team of designers, front-end and back-end developers, tester, and QA professionals who ensure timely completion of your project. 
In-house vs. Outsourcing Mobile App Development: Which is best?
When it comes to mobile app development, the dilemma between in-house and outsourcing continues to affect businesses. However, if you conduct an extensive comparative study, you will come across the various struggles associated with developing mobile apps in-house. Let us look at some of the greatest challenges of creating apps in-house:
Lack of appropriate skill set: Both Android and iOS apps require different skill sets and intricate expertise in diverse coding languages. Most agencies don't have developers who are aware of the complex practices involved in building apps on both platforms. 

Expensive and time-consuming process: To build a fully-functional app in-house, you will require an elaborate team of designers, developers, strategists, project managers, and QA experts. All this is an expensive process that also involves a lot of time. You may not be able to focus on your core business operations. 

In-house apps are not very stable: Typically, in-house apps are slightly risky as the team involved is not very proficient. Another issue with such apps can be scalability. Without formal knowledge, decision-makers can often be unable to identify the root cause of issues that may arise, leaving the project held up in the middle. 
Outsourcing Mobile App Development to a Professional Indian Agency
Outsourcing your mobile app to an experienced country can have several benefits. The most prominent ones are as follows:
Cost-effective solution: A full-fledged app development company works with an expert team of professionals. Hiring such a company is a much more cost-effective option than building your own in-house team from scratch.

Improved and technology-oriented solutions: A well-established company has unrestrained access to the best talent. They can use the latest tools and technologies to build a robust deliverable.

Greater accountability: A professional company will give you a foolproof contract and scope of work with well-defined clauses and terms. And if any error or delay occurs during app development, you will have a dedicated representative to help you overcome all challenges. 

Less time investment: You don't have to spend any time interviewing staff, handling with HR problems, or even dealing with project complications that may arise.

Scalability: A good mobile app development company in India can easily scale the requirements up or down, depending upon your precise needs. 

Speed of delivery: By eliminating the recruitment process and possible training requirements, an outsourced app is much quicker to complete than the one developed in-house. 
How Much Does it Cost to Develop a Mobile App in India?
The exact cost of developing a mobile app depends upon a variety of factors, such as type of app, level of complexity, number of features integrated, etc.
Approximately, the cost of developing a simple mobile app with basic features is around $10,000 to $25,000. However, a feature-rich with superior functionality may cost you as much as $45,000.
Another significant factor that immensely affects the overall cost of development is labor costs. Almost all app development companies charge their clients on an hourly basis. In the US/UK, this hourly cost is extremely high, ranging between $70 and $250 per hour. In the case of Europe, this price varies from $50 to $170 per hour. But in India, the cost of labor is highly affordable. Here, you can easily come across skilled app developers with adequate experience charging from $20 to $70 per hour. Thus, in terms of labor cost, India is indubitably the most feasible option. 
How to Choose the Best App Developers in India?
Choosing the best mobile app development in India is a daunting process that requires extensive research. You can also seek recommendations from your peers in the industry who have a published mobile app. 
Some things to keep in mind while selecting a professional agency are as follows:
Review their portfolio: It is important to look at the portfolio of the shortlisted companies to understand their quality of work. Often, previous experience in certain domains or with certain functionalities can make a huge difference to the final output quality. 

Recommendations: Seeking recommendations from trusted sources can go a long way in finding the best mobile app development company for your needs. 
Once you have chosen a few development agencies, you can move ahead to the interview process to make the final decision. Also, make sure to ask the following questions during the interview for gaining a better understanding of the app development company:
Can I have a look at the mobile apps that you have developed in the past?

Can I get a list of your past and existing clients?

What type of mobile app development services does your company offer?

How will my app make money?

Will you provide a dedicated team to work on the app?

What do you do to achieve a seamless user experience?

What services do you offer post-launch?

Are you familiar with the industry & domain similar to ours?

What are your fees and payment terms?
Checklist to Select the Right Mobile App Development Company in India
Practically, every mobile app development company you come across will claim to be the best. However, not all of them can meet your expectations and deliver the desired results. So, if you want a reliable development agency, you need to consider the following factors mentioned in the checklist below:
Check their track record

Inquire about their team of designers and developers

Consider their domain expertise

Ask if they provide free quotes

Look up client testimonials

 Ask them about intellectual property rights

Evaluate their app interface designing skills

Read through the contract document

Assess the reliability of the company server

Assess their app testing and quality assurance

Check the ratings of the company's previously published apps

Ensure they offer customized app creation services
List of Top 10+ Mobile App Development Companies in India
Cumulations Technologies
Cumulations Technologies is a leading enterprise mobile app development company with a string of clients in the USA, Europe, and Australia. Its team of professionals is highly competent in developing feature-rich, design-first Android, iOS, and IoT applications. The firm places a strong focus on developing scalable and cost-effective solutions that are supported by a flawless cloud backend infrastructure. Cumulations prioritize the satisfaction of its clients and guarantees optimal outcomes. 
Over the years, the firm has worked with some of the leading brands, including IndiaFirst, ESPN, Intel, PVR Cinemas, Bose, Siemens, and ZeOmega. They have successfully delivered 100+ projects that are known for their exceptional quality and performance.
Services Offered
Mobile & Web Application Development

Flutter App Development

React Native App Development

Alexa Skill Development

Custom App Development

Cloud & Web Solutions

IoT Application Development

Chatbot Development
Some notable benefits of working with Cumulations Technologies
For startups: Cumulations helps aspiring entrepreneurs to grow their startup idea using interactive mobile apps. These apps are customized to suit the requirements of every business. If you are a startup and looking to enhance your business through a robust digital solution, Cumulations can be your development partner within your timeline and budget.

For small business: Several small businesses are struggling with limited resources when it comes to developing a mobile app. Since inception, these businesses have been a priority for Cumulations.

For enterprises: The dynamic world of technology necessitates all enterprises to stay updated with the best mobility solutions. From a resourceful idea to impeccable execution, Cumulations adds expertise in every stage of the app development process. They deliver the most stable, secure and protected app solution that achieves impact.  
Testimonials
In the words of Mr. Vikas Kamat, CEO, CyberCrow Apps, "Cumulations is a dependable, responsive and professional partner."
Mr. Mert Tatver, Senior Product Specialist at Arcelik, also named "Cumulations as a fast, professional, and competent business partner."
Shyam Future Tech
Shyam Future Tech LLP is a proficient mobile app and digital solutions development company. With a transparent working process, complete knowledge of updated tools and technologies, and timely delivery, the firm ensures high-end deliverables. It offers robust mobile app projects, from startups to enterprise-level clients across the globe. 
Services Offered
Mobile & Web Application Development

Custom ERP System

Custom CRM Solutions

Custom Product Development
Moon Technolabs
Moon Technolabs is a globally recognized mobile app development company that offers a range of customer-driven solutions. With over 10 years of experience, the company is best known for its large pool of talented professionals and cutting edge worldwide delivery models. It also leverages top-notch technologies such as IoT, Artificial intelligence, and cloud computing to ensure competitive products. 
Services Offered
Mobile & Web Application Development

E-commerce App Development

Custom App Development

IoT Application Development

Cloud Application Development

Digital Marketing Services
Indglobal Digital Private Limited
With a full-fledged team of experts who constantly strive to upgrade their skills, Indglobal promises exceptional results. Using a plethora of latest tools and technologies, the firm has successfully catered to a vast range of clients across the globe. It offers robust solutions across different industry verticals, such as Automobiles, Manufacturing, Healthcare, Retail, and IT. The company follows an agile development methodology for developing interactive