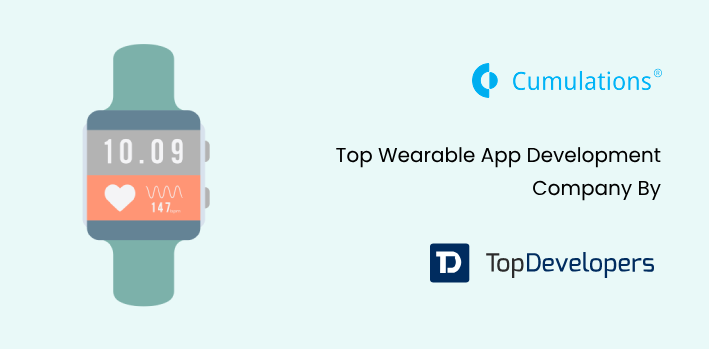 The team of Cumulations is very much pleased and proud to inform peers and clients that Cumulations Technologies has been announced as a top wearable app development firm by TopDevelopers.co on 24th Jan in their Press release that has listed 15 best wearable app development firms that the businesses can rely on as a technical partner for 2019.
The factors which favored us to gain a prominent position among the leading wearable app developers for 2019 is the challenging projects we have effectively developed so far, the extended list of satisfied clients, the recognition our clients have gifted us with, and are well-built team which comprises experienced engineers, technology specialists, designers and developers have impressed them to make us their choice undoubtedly.
Cumulations Technologies is one of the leading IT firms specialized in service categories that include Android Application Development, iOS Application Development, Wearable App Development, Backend Development, Flutter App Development, Alexa Skill development, Chatbot development, UI/UX Design Services, Internet of Things App Development, WiFi and WiFi Direct, Near Field Communications, Bluetooth Low Energy, Home Automation, and ZigBee.
We began our journey in the year 2012. Since then, our contribution to our clients and the industry has always been appreciable. We are reinforced through the team built spirit, intelligence, and technical knowledge hence, we are extremely capable of shaping a technical product with all the client and industrial requirements being implied strategically.
About Cumulations
Cumulations is a technology-driven company based in Bengaluru, India. We believe our hard work, well-equipped infrastructure, team-work, continuous research about new technologies in the market, innovative gadgets and most importantly our updated technical knowledge base, as a success quotient of our brand.
We never get tired of learning things that impress the audience in terms of technology. Our product delivery excellence, secure and transparent documentation and hassle-free client servicing are treated as the best practices of our firm among the other leading organizations.
Our association with well-known names like Puma, Intel, Siemens HealthCare, Titan and others, a little after our inception, their appreciations and acquaintance boosted us to grow and shine as a leading IT firm in India.  Our portfolio chronicles our technical proficiency, good sense in designing and delivering the best solutions on time for the diverse needs of our clients.
What our client says
One of our clients Mr.  Jinendra Jain, who was impressed with our service, said that "Cumulations has got a good team with good knowledge and have a good thought process for future app development.". To read the complete review, visit our profile on TopDevelopers.co.
Cumulations Technologies is an ace brand in offering a technical aid that adds value to the good name we have been preserving for years. Our dedication and expertise are the outcomes of our impressive experience in handling various complex industry-specific needs flawlessly.
We thank TopDevelopers.co for recognizing our specialized service, works, and a team as one among the best wearable app development firms worldwide. This, we treat as one of the commendations that will keep us boosted towards our objectives and help us in augmenting businesses more effectively.
Who are TopDevelopers?
TopDevelopers.co is a directory and review platform for IT service providers. They are offering an unbiased service by listing the genuine and highly professional IT firms that can help the service seekers better through quality technical services.
The research team of top developers chooses the best firms by filtering a vast list of companies and introduces only the competitive names to the businesses, enterprises, and entrepreneurs to partner with.
The company has a friendly team of researchers and a hassle-free communication system. They provide the listing service for various technologies and services, which makes it a one-stop destination to find your perfect technology partner.