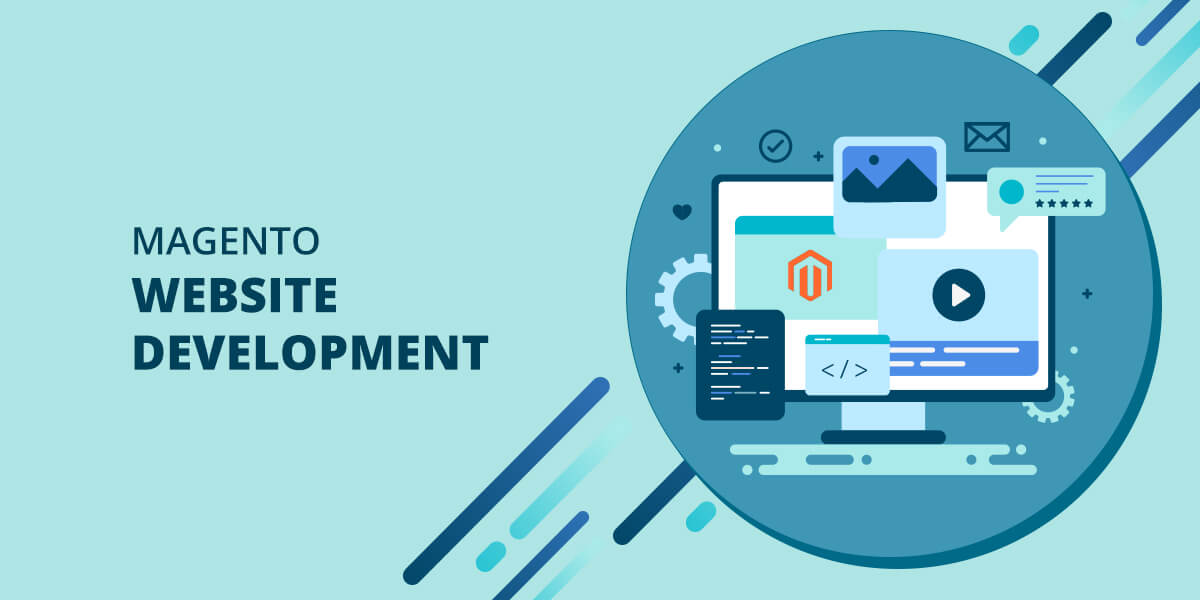 Magento is very popular because it is a sophisticated e-commerce software that is free and open-source, and it makes use of MySQL and Zend PHP databases, which are both widely used.
Because of its modular design, this platform has incredible scalability and versatility. The shop owner has a wide variety of management choices, which is one of the reasons why it has become the most popular e-commerce platform. It is a well-known e-commerce system that is targeted at companies that sell their goods or services over the internet.
What exactly is electronic commerce?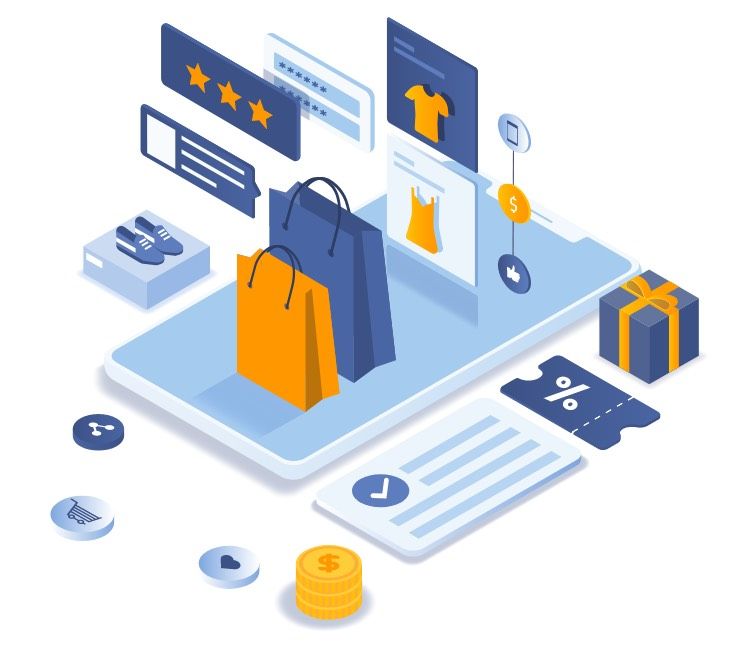 When it comes to technical terms, "e-commerce" may be described as "the purchasing and selling of products or services via the internet." A shopping cart or product inventory system integrated into your company's website is the most common solution for most companies. Customers may visit your website, explore your goods, add the things they like to their shopping cart, and then pay via a "checkout" procedure that takes place completely inside your own website, saving them time and effort.
Effective e-commerce systems also enable you to log in and discreetly monitor all of your incoming and outgoing orders on the backend, while also giving you useful sales statistics and information about your business.
Magneto is the most successful e-commerce solution for many of our customers, as well as the most user-friendly and understandable option for company owners. As a result, it is recommended tp often create bespoke websites using Magento as the shopping cart system of choice.
Magento has been in use by businesses since its debut in 2008, and it has proven to be very successful. A variety of distinctive features, as well as a satisfying balance between user-friendliness and technological complexity, have helped it become one of the most widely used platforms available.
Despite this, Magento by itself does nothing in terms of driving traffic to your site or closing the transaction once visitors arrive. For this reason, Magento is just one essential piece of a complex, but completely solvable jigsaw in which we believe we can succeed. When you work with a competent Magento web development company for backend development, you can expect well-rounded sites that are created with best practices and sales & marketing know-how to practically ensure sales success.
Several Benefits of Magento Website Development.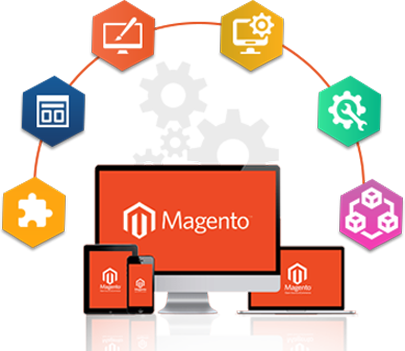 Some of the unique characteristics we may provide you as part of a Magento web development strategy are as follows:
Mobile gadgets, such as smartphones and tablets, make shopping a breeze.
Multi-store capability is available.
Multi-site capability is available.
Possibility of establishing consumer loyalty programs
There are several user accounts.
Product inventory and administration are made simple.
A large number of transaction options and parameters are available.
Shopping is made easier with dynamic browsing, classification, and filtering options.
There are a plethora of product display choices.
Architecture based on plug-ins
High levels of dependability, safety, and security
Expandable in order to accommodate future expansion
Integration of features and services that are entirely unique to the organization
What are the many characteristics that make Magento the most popular option?
A Magento website provides the shop owner with an easy-to-use and effective tool for displaying their goods. The ability to build and maintain product catalogs, as well as generate several pictures for the same product, is available. It is possible to include wish lists, which will be very helpful to company owners in the long run. Business owners may utilize a variety of promotional techniques in their marketing campaigns, including discount codes and price promotions, with the assistance of the Magento platform.
A distinctive online shop is not difficult to create, especially with the wide range of Magento customization possibilities available. There are many themes, modules, and extensions available as well, each of which offers a diverse variety of functions that enhance the overall user experience. For users, there is the option of creating user profiles, tracking the actions of visitors on the website, and maintaining their purchasing histories. It is simple to integrate a Magento website with Google Analytics and a Website development company in India, allowing the business owner to gain a clear understanding of the customer behavior on the website, which will aid him in optimizing his website in order to achieve better results.
How does it work?
The creation of a Magento website is a highly methodical and planned procedure that takes place before the website is made available to the public. This is an excellent time to get an understanding of the complexities that go into the creation of a Magento shop and to ask questions. In a nutshell, this section provides a clear-cut breakdown of the different stages that must be completed in a particular sequential sequence throughout the construction of a successful, adaptable, and scalable Magento website.
Discovering the need for a Magento website
Go on an exploratory journey together, during which determine the need of having a Magento website for your company after examining the level of competition that exists in the market. Define the objectives that must be fulfilled, as well as the timetable for achieving those objectives, in order to go forward.
Examination of the Situation
Examination of the Competition
Identifying objectives and timetables
Arrive at a specific strategy
After you have established the objectives and timeframes, go on to the next phase, which is strategizing. You should arrive at the ideal marketing plan for your company without sacrificing values or work quality.
More brains equal more ideas.
Look for new and creative concepts.
Observe excellent practices wherever possible.
Create a marketing plan that is both innovative and effective.
Diverse a specific action plan
The brightest brains on the planet have gathered to deliberate. It is now necessary to put the strategy into action, which will take the shape of planning. This is the stage that is characterized by the completion of the plan, the identification of specific milestones, and the establishment of deadlines. Responsibility is assigned in order to guarantee that the process runs smoothly.
Clearly define goals and timeframes for your project.
Delegate authority and duty.
Strategic presentation
Magento development begins here and continues throughout the rest of the process. We develop consumer personas, wireframes, and UX/UI design, among other things, in order to provide visitors with the best possible user experience.
Customer archetypes are being developed.
Wireframes UX/UI Design
Providing the best possible user experience
Design for the website
It is true that first impressions are the most lasting, and we are well aware of this. And thus make no compromises in the pursuit of the perfect appearance. Try to achieve the optimal web page layout and user interface design, which will aid in reducing shopping cart abandonment and bounce rates.
Obtaining the appropriate appearance
Designing the User Interface (UI) Layout of the page
Development and integration
An innovative design that incorporates cutting-edge technology will be created, providing you with the much-needed competitive advantage over your peers. Try to build the code from the ground up, and the Magento website is optimized for use across a wide range of web browsers. During this stage, the logistics across many platforms, fact-finding, and customization of third-party software and integration are all thoroughly investigated and discussed.
Configuration of a Web-based hosting service
Writing the code Cross-browser compatibility and optimization
Cross-platform logistics are important.
Obtaining information
Creating modifications to third-party software
Launch
The shop is only launched once a thorough examination has been carried out by the Magento developers, including testing and quality assurance (QA). Once this is completed, a final check is carried out to verify that there are no gaps, and the Magento website is finally launched into the public domain. An additional service is the provision of a training session to the business owner, which will assist him in running the shop in a more efficient way.
Testing and quality assurance
Review of the final version
The procedure for launching
Training & Assistance
Managing
Don't just stop at Magento website design and construction, you should also provide administration and maintenance services for the clients.  Have a look into optimizing the website's speed as well as doing timely version upgrades, while always ensuring sufficient Magento security and backup.
Be well aware that customer service is critical to the success of any online business of any type. Make certain that everything is reliable, safe, up to date, error-free, and quick in order for the clients to have a positive experience with the products with the help of a Mobile app development company in India. Be actively engaged in monitoring the functioning of the website and will strive to resolve any problems that arise while the website is still in its early stages.
Site performance may be improved by a number of means.
The provision of support and maintenance
New features are being developed.
Data input for product information
Upgrade to the latest Magento version
Magento security and backup are important considerations.