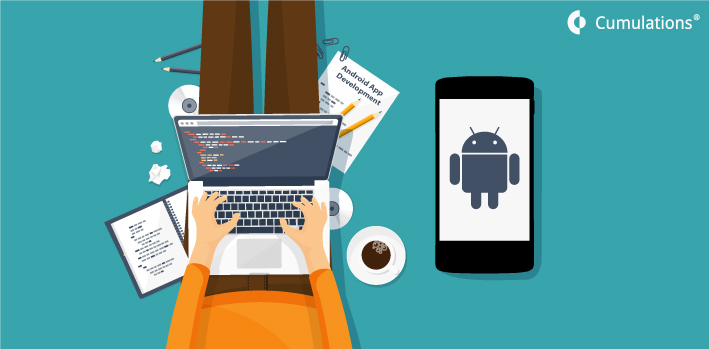 Mobile phones are no more just for connecting people. Smartphones pack under the hood the power of a personal computer. For online purchases, email transactions, data transfer, digital payments, and a lot of another day to day activities, people now solely rely on smartphones. This is why mobile apps are becoming almost indispensable in the smartphone segment. Rather than logging in through the browsers, the faster smoother mobile apps make the work a whole lot simpler.
Android remains to be the predominant operating system. Android mobiles constitute almost 97% of the total smartphone segment of India. This is one reason why the number of Android app development companies in our country increases day by day. But the role of a developer is not as easy as it appears. With the advancement of technology, developing android apps have indeed become simpler than they were in the past. But they also come with a lot of limitations to tackle. Technology is greatly changing the role of the android app developers in the country.
The ever-growing app-market:
Android smartphones are now available at affordable prices. So the number of Android users and thus the number of Android apps keep increasing day by day. There are several aspects of Android helping users in a lot of ways like AndroidThing helps migration to IoT and Android Auto makes the integration of smartphones to the car to access your phones on the car dashboard display.
Technological trends affecting app development:
1. Apps are key marketing strategies:
Several businesses now see mobile apps as key mobile marketing strategies. This further adds value to mobile apps. Those businesses that tap the full potential of android apps can see a notable growth in their revenue. This improves the scope for android app development companies further.
2. MEAP has a role to play:
To efficiently manage cross-platform applications, Mobile enterprise application platform (MEAP) has been a major help. This has helped android app developers efficiently build and deploy mobile applications. This helps the developer develop apps that are consistent across various devices including smartphones, tablets and more.
3. Android instant apps would change the game:
Mobile apps are better because they are smoother and offer a better interface. Mobile websites are better because you do not have to bear the "installation time" associated with apps. What if you could combine the goodness of both? That's roughly what Android instant apps would deliver- blending the potential of a web app and a native app. This would make apps easier to be used. Reducing the API size for faster download, and few other minor changes would be required from the developers.
4. Incorporating new technology:
Augmented reality based apps, apps that incorporate Artificial Intelligence would be in trend in the coming years. Android app developers would also have to stay updated and be able to utilize these technological advancements to make apps better. These apps would be useful especially with wearables.
5. For IoT, there are Android Things:
Google Brillo, the OS launched by Google with Android core but a little difference in the development aspect, gets a makeover and comes now as Android Things. Focusing now on Java based development, this toolkit can aid in app development for IoT devices.
6. For high-quality apps, developers have Firebase:
With a lot of flexibility offered, Firebase is the answer for developers' requirements of developing high-quality apps which can work seamlessly on several platforms. Firebase also comes in handy with app analytics. Google cloud messaging also has now become Firebase Cloud Messaging.
7. Google also has Fabric now:
To tackle the analytics needs efficiently, Google has now acquired Fabric. The app developer platform of Twitter would now combine with Google for crash reporting, an app analytics and more. This is useful for the Android app developers as android app analytics would also become easy with the assistance of Fabric.
Android app development companies and the current scenario:
Just like technology is making the mobile application development process easier, it is also adding to the growing expectations from mobile apps.
      • Several software solutions providers have now started directing their attention to mobile application development.
      • There are numerous new app development companies coming up daily.
• App developers now have the flexibility to take up application development courses to fine tune their skills and stay up-to-date. So a lot of developers are now coming forward to launch mobile app development companies.
• App developers and app development firms with rich experience in this field are able to survive the competition. They also have an edge over the others in developing apps that can work seamlessly with various operating systems.
Technology has made the market scope bright for the android developers. It has also resulted in tough competition for the developers to tackle.