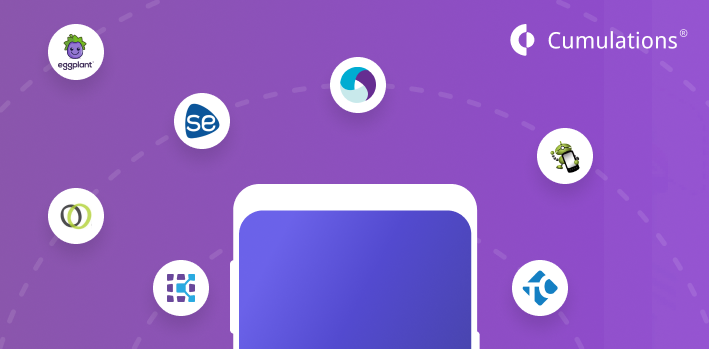 Is it the case that you are searching for ways to check your mobile testing strategy to take it up to the next level? You will be glad to know that there are countless of Mobile App testing tools for doing the job in a limited time and money.  
10 Mobile App Testing Tools for Android & iOS
Here's what we found 10 Mobile App testing tools for Android & iOS which will be worth it for you.
1. TestComplete
2. Kobiton
3. Experitest
4. Robotium
5. Selendroid
6. Eggplant
7. MonkeyRunner
8. Appium
9. HeadSpin
10. Ranorex Studio
1. TestComplete: 
TestComplete, is a testing tool which helps in creating and running repeatable as well as robust UI tests across various mobile apps. TestComplete is supporting both Android and iOS devices. For using TestComplete, we don't have any need to jailbreak the phone or tablet. It makes Use of script-free records as well as replay actions for creating automated test scripts. The tool is popular as a business flexible testing tool. Application of TestComplete will help in increasing the test coverage and also ensure that you ship high-quality as well as battle-tested software. It is designed by SmartBear.
2. Kobiton:
Kobiton is one of the most popular Mobile App testing tools but it promotes it as a mobile experience platform, in place of the mobile testing platform. It offers a seamless experience for testers by offering a smooth and simple process of testing. It works both on iOS and Android. It has Centralized testing logs and accesses modern devices for efficient testing through cloud labs. Can make instant health check for any mobile app. Performing both manuals as well as automation testing is possible with Kobiton.
3. Experitest: 
One of the leading Mobile App testing Automation tools is Experitest. Efficient to execute hundreds of manuals as well as automated tests on more than 1,000+ iOS & Android devices in parallelly in the cloud. Makes real-time interaction besides live debugging and interacts easily with CI/CD tools and its workflow. Can Create Appium tests with perfection directly from the IDE
4. Robotium: 
You can do free Android testing of UI device, using Robotium. Its very simple to write as well as for compelling black-box test cases automatically for the Android applications. Besides this, it acts as a library for the unit tests. Needs bare minimum time to deliver strong test cases. Robotium is capable to handle multiple activities of android in parallel. Synchronize smoothly With Ant or Maven at the time of running tests.
5. Selendroid

:
Selendroid can be defined as a test automation framework capable to drive off the UI of the Android native as well as hybrid applications besides the mobile web. Selenium 2 is used for writing the client API tests. It is highly compatible with the JSON wire protocol as is one of the preferred Mobile App testing tools designed for Android apps. This testing tool is competent to interact with multiple types of Android devices and that too at the same time.
6. EggPlant:
Eggplant is a Commercial GUI Mobile App testing Automation tool that is developed and designed by TestPlant. This testing tool is used for the Android as well as for iOS app testing and is termed as eggOn. Mobile app testers who use Eggplant Functional can utilize whatever is shown upright on the screen for testing by transforming different sections of the screen into multiple objects. This tool is considered best for UI Automation and functional, Mobile Testing, Image-Based Testing, Network Testing, Cross-Browser Testing, and Web Testing. 
7. MonkeyRunner

:

 
Monkeyrunner tool is offering an API used for writing programs that can control an Android device right from outside of the Android code. This tool is very popular just like robotium in regards to performance. The results of the tests are written using Python, for creation of tests which can be used also for recording tool. It works excellent for controlling multiple devices. For automating tests there is hardly any need to deal with source code. It is ideal for automated functional testing and regression testing. Jython offers the scope to the tool API for interacting with Android Application. 
8. Appium: 
Appium is one of the very popular testing tools with open-source automation and is developed and designed by Sauce Labs. The tool is freely distributed by the developing company. Appium promotes the tool as a one-stop solution for all aspects related to mobile application testing. If you are into developing hybrid, native or even web-based application; remain assured Appium will perform best for testing the application. What makes Appium stand different in the crowd is that it works cross-platform. It works smoothly on Mac, Windows and also Linux. It sets up perfectly on multiple platforms. You can test applications without the need for recompiling or getting access to apps codebase. It can support the built-in browser or the Chrome application on the Android device and Safari on the iOS device. One important thing to notice for Appium is that It allows accepting contributions plus solutions from the huge community of app testers.
9. HeadSpin

:
HeadSpin offers a real-world besides actionable user experience for various businesses towards improving mobile performance. HeadSpin is carefully developed and designed to help businesses prepare to face increasing challenges. Challenges are pertaining to customer experiences across the mobile ecosystem which is complex by offering detailed visibility about performance and user experience. It offers visibility of Pre- and post-launch besides 100% uptime on the devices. You will get the advantage of load testing while using HeadSpin.
10. Ranorex Studio

:
Ranorex Studio proved to be a compact solution for all types of mobile app testing. More than 4,000 companies are using it worldwide. It proved to be an easy choice for beginners for the codeless click-and-go interface. It's a helpful wizard, which is powerful for the automation experts having a full IDE. It Supports both iOS and Android testing. It can test on Test on real devices without the need of jailbreaking.
There are countless of other Mobile app testing tools in the market. The above 10 Nifty Testing tools have managed to earn widespread acceptance in the industry of mobile application development. These tools can reduce the app testing time of the project besides increasing its efficiency and that too within no time.