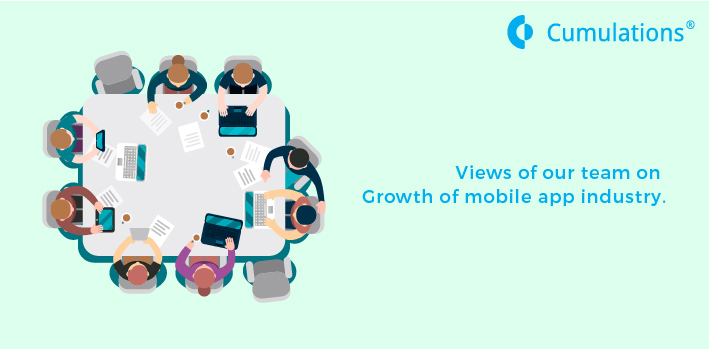 We can clearly observe the growth of Mobile App Industry in past 5 years, And this growth is still going on. We can compare the time when we have 4-5 major apps and current time when we have a specific app for every task we want to do, From micro apps to multi-functionalities apps growth rate is amazing. Even we can control each and everything present around us through mobile apps with the help of IoT, AI, and machine learning technologies.
We have asked two questions to all of our team members and collected their response on what they think about the changes happened in mobile app industry in past several years. And what is the scope of mobile app industry in future? Let's explore all answers one by one.
Here are the questions We asked Our Team
Question 1
What difference or changes do you feel when you entered into the app industry and the current state of app industry?
Question 2
Where do you see App Industry in 2020?
Here are the answers we got answers we Got
1) Answers By Vinay Kumar – Senior PHP Developer
Answer 1=> Many apps won't take care of battery usage that is one of the must be needed change. It should make mandatory for all apps. Apps without Ads. Apps should consume less memory & cache etc.
Answer 2=> Apps integrated with A.I & V.R features. One or other way should be integrated with A.I.
2) Answer By Abilash Balasubramanian – iOS Developer
Answer 1=> Before entering into app industry, I was not aware much of application's security and flaws. As most of the app lags in security and quality, because of the limited timeline and delivery process. We need to make some differences in future for the betterment of user, we developers and organization need to consider "quality and security" as an important motive rather that timeline.
Answer 2=> We need to utilize latest technologies and environment, instead of resuing. This can give the user a highly standard app to make their work easier and secure.
3) Answer By Vishal Anand – Full Stack Developer
Answer 1=> When I entered into the app industry, the apps were developed for achieving the objective of an app and easy to use. But now the app industry developed so much that the app becomes much easier to use and graphically become more realistic. Even hardware and software both are improved so the apps become more fast and efficient. Now we have fast programming languages like Swift, Kotlin, Java and more. These programming languages make the app's development and maintenance easy. We also have high-performance hardware so we can use apps take less time for execution.
Answer 2=> I think the future apps will come with some features that will make the app more advanced using especially artificial intelligence (AI) and improved security. Even for developers, developing apps will become fun.
4) Answer By Raj Kiran – Jr. iOS Developer
Answer 1=> People have notion that mobile apps are developed only for chats or other content-based apps which is amiss but when one gets into mobile industry we can see the broad spectrum of this industry few of them are on-demand apps, chatbots, personal assistants and one most prominent domain IOT(Internet Of Things and Intelligence Of Things). The current state of the app industry is getting saturated for chat based and content apps but however, when it comes intelligence in mobile, IOT and maintaining the user base it's very lucrative.
Answer 2=> Future of app industry is very assuring in terms of personalising the user experience, security and IOT because as per current Gartner's survey cycle 2017 we can see IT is investing billions in IOT based apps, as IOT is very promising its really creating buzz and integration of voice interface that AI/Mobile intelligence provides is amazing for its development. From mobile, watches to home appliances there are so many devices connected to each other all can be controlled through a single interface of voice that helps connect devices easily.
5) Answer By Anirudh Bhat – Android Developer
Answer 1=> Difference or changes I feel is, Nowadays you get to see the results quickly in the mobile apps compared to other domain. Easier to make an impact. The current state of app industry: It's growing phenomenally, but there are both pros and cons for it.
Answer 2=> As I said it's growing a lot (There are apps like dating for dogs(Tinder for dogs), go figure!!!). As a result, the app store will be bloated with lots of below average apps and at the same time, there will be quality apps. I can see most of the companies already taking a mobile-first approach. So, I would say app market will keep growing for at least another 10 years.
Answer 1=> People see mobile apps as the most important channel to reach users. Many times mobile is seen as a first or only mode of reaching out to customers. Building lot of Social and gaming apps has reduced. Apps are built for specific purposes only.
Answer 2=>  Apps will remain the main user interface where customers will access a product.- Voice will be taking over touch interface with the evolution of devices like Alexa.
7) Answer By Pradeep VR – CoFounder
Answer 1=>  Being an Android developer myself, I found building an app is quite tough if you are not good at basics and not many tutorials were found. Today you can see so many tutorials/guides and how-to sites which can help you find solutions to your problems during development.
Answer 2=> Mobile will be the first screen where the user spends a majority of his time. Enterprises/businesses will try to get a major chunk of users' time by building apps with meaningful features. Integration of AI with mobile apps will go in full swing.
8) Answer By Sunil – HR & Accountant
Answer 1=>  Earlier days I used to spend so much of time in the bank for bank related works. After the invention of the Mobile app, all works will be done under fingertip by using Bank mobile applications. Hence it saves time, more flexible to use and user-friendly.
Answer 2=> It should be developed with the latest technology to secure data loss over a network.
9) Answer By Aditya Mishra – Digital Marketing Executive
Answer 1=> Well I have clearly observed the changes in the mobile app industry, I remember the time when I was in class 10th some 5 years back we have never thought of that app industry will grow like this and we will be having a specific app to perform a specific task. But nowadays we can do anything through mobile apps we have specific apps for doing particular work like chat apps to chat with friends, social media apps, banking apps, Travel apps, Ticket Booking apps, even we have Government apps to use government services and much more. Now, we can't live without apps because they change our living style and we become dependent on mobile apps.
Answer 2=> I believe the app industry is the only industry which will be continuously growing for at least10 years. Because nowadays nanotechnology is also in trends and everyone is trying to minimise the size and dimensions of devices and believing in operating it smartly through our mobile devices, Nowadays you can control your, home lights, windows, Fan, Doors and many things on your smartphone only, So you can simply imagine the future of mobile apps. As I know integration of mobile apps with Alexa, IoT, AI, Machine learning and many more advanced technologies making it more advanced.