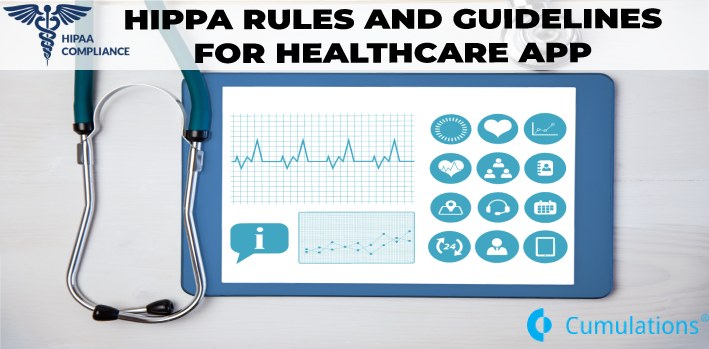 The healthcare industry is booming with innumerable mobile health apps today. This trend has only risen over the last few years. Users are actively using these mobile apps to keep a track of their basic health stats, counting the number of steps, measuring their heart rate, consulting a physician etc
With over 2 billion smartphone users in the world, healthcare mobile apps are only rising in terms of popularity.
This growth in the medical sector influenced by the explosion of healthcare apps the need of considering Health Insurance Portability and Accountability Act (HIPAA) becomes even more important.
What are HIPAA Rules?
HIPAA rules are guidelines issued by the federal regulators to protect the personal information of patients and to keep their medical records private.
These regulations were made to ensure that the individually identifiable health information, also called Protected Health Information (PHI) of patients worldwide, is protected. These guidelines influence and shape how healthcare mobile apps work and handle data!
What all comes under the Protected Health Information?
It is very difficult to categorize what exactly comes under PHI and what does not. This classification can be tricky. Any form of information or knowledge about any patient, her health, her past medical records or any information related to her present and future conditions can be termed as PHI.
Things like Personal identification, date of birth, residential details, zip codes, genetic information of the family should also be treated as PHI.
Fundamentals of HIPAA compliant mobile app.
There are two fundamentals of a HIPAA compliant mobile app that you need to focus on!
Privacy rules 
Security rules 
Privacy rules define what is PHI and what is not. It also defines accountability of the people in terms of the security of PHI. Privacy Rules tend to divide the healthcare sector into two parts when it comes to HIPAA guidelines.
Covered Entities (CE)
Business Associates.
The Covered Entities (CE) include health care plans, clearinghouses, healthcare providers, people who electronically transmit PHI in connection with the transactions in different departments.
While the term Business Associates includes anyone who can store, collect, maintain and transmit PHI on behalf of the Healthcare provider or a CE.
Though a CE includes everyone involved in the medical sector, the term Business associate includes you, a mobile app developer.
On the other hand, the Security Rules are nothing but electronic information and guidelines to deal with the securing of PHI. These securing methods are categorized into three ways:
Administrative
Physical
Technical.
These three categories are pretty easy to understand. While the administrative guidelines revolve around accessing control, the physical involves securing the device on which information is stored. Technical, on the other hand, relates to securing the PHI data.
Why developing a mobile app, in accordance with the HIPAA Rules and guidelines would come handy for you as a mobile app development company?
Most healthcare providers are already using mobile apps to access personal information of their patients and transfer the same to their database. This information helps them to treat the patients in an effective manner. Today, most healthcare mobile apps allow the information to be stored in cloud storage, making information paperless and secure.
But, no matter how comfortable cloud storage is for storing the information, HIPAA regulations still become necessary. Most are still not following the necessary HIPAA guidelines to secure the data.
Medical researchers and mobile app development companies thus are the people solely responsible for such compliance. Once the data of any patient is shared with them, they are the ones responsible to secure the same. To make your medical app secure and ensure that your patient data is unbreachable, you need to ensure the following rules :
Have a back-end system to meet all HIPAA rules and guidelines.
Display a link in the mobile app's privacy policy before downloading it.
Take consent from the user/patient before using their data
Inform the user of the app on how their data is going to be used.
Provide them access to your app only through a secure login.
Make sure data is encrypted during mobile app usage and on the server.
If patient data is shared in the organization itself, it must be in accordance with the HIPAA guidelines.
Data must be audited to ensure it has not been modified abruptly or has not been accessed inappropriately.
There have to be regular data updates to ensure better security.
Remote ability to wipe off personal user information if the device is lost or stolen.
As a Mobile app developer, you need to take care of following the HIPAA rules!
The market for healthcare mobile apps is bound to grow extensively in the future. As a mobile app developer, you are thus, bound to be familiar with the compliance of HIPAA regulations in the healthcare sector. You should be aware of all legal and regulatory requirements in the healthcare industry. This is important if you are looking forward to tapping new opportunities of growth in this sphere.
HIPAA guidelines are very specific and can easily affect everyone involved in the development and marketing of the app. This includes every single person who has access to the PHI of a patient/user. There are many intricacies when it comes to HIPAA compliant mobile health apps, with regard to the personal data of a user. Therefore the mobile app must be designed and developed with all authentic security and privacy features in mind.
Minimize your risk! Increase your security.
The best way to minimize your risk is to assess the security of your mobile app! Security testing forms an essential part of the same. Dynamic and static application testing is significant here. You need to understand your responsibility when it comes to the development of a HIPAA compliant mobile app. You as a mobile app developer hold the key responsibility when it comes to developing a risk-free healthcare mobile app.
Thus, the HIPAA rules cannot be ignored. Anyone or everyone, in whose safety the Patient Health Information is stored is going to be held liable if there is some form of negligence found. Moreover, the ignorance of the same is not going to be excused. As a developer and a marketer of the mobile health app, these regulations apply to you too, since most of the data stored in the app is accessible to you (this includes all login credentials, all kinds of personal information along with other medical information). If this information is leaked, and you are found violating the same, you could be reprimanded.