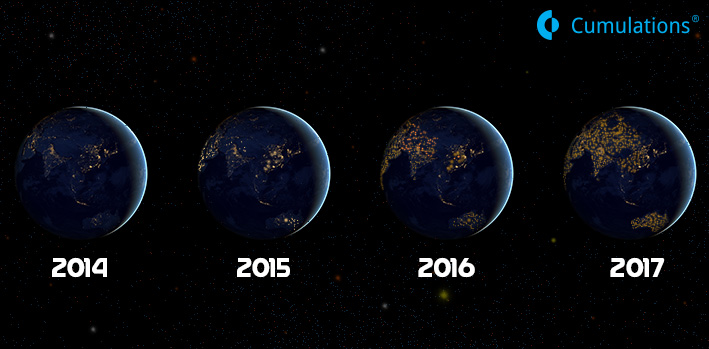 Mobile apps are now the in-thing in today's world of technology. The last five years have seen thousands of new kinds of phones being launched in the market along with zillions of apps.
Life has changed in many different ways for us since mobile phones and apps became a part and parcel of our lives. The best part of mobile apps is that its need would never dwindle.
Demands would only grow as apps are innovative and users would always have something new on their hands. Also with the internet being a part of our smartphones, every company, store etc has an app for their users. Information availability is much easier through apps than through the web browsers.
Mobile application development companies have provided us with some real cool stuff over the years and we just can't get enough of the newness around. IoT or what is popularly known as Internet of Things is something which is storming up the technological world. It is basically a host of things together, like sensors, electronic gadgets, vehicles etc that can be connected to the internet. The IoT allows objects to be sensed or remotely controlled across an existing network infrastructure. This would help in creating more opportunities for directly integrating the physical world into a computer-based system. With the help of IoT's, you can now have smart homes, smart cities, intelligent transportation and so on. Experts state that by 2020 IoT would consist of over 50 billion objects!
One such example of technological advancement is the Beacon with integrated GPS technology. For the uninitiated- Beacons are low-cost low powered transmitters. These are equipped with Bluetooth Low Energy (BLE) which helps in delivering context-aware messages based on proximity. Beacons are best for detecting smartphones indoors where may be GPS isn't working or isn't effective. These communicate with apps in your mobile phone without the internet connection when indoors. With the help of this one can now do a host of stuff without an internet connection. In other words, this helps in bridging the gap between online and offline. Mobile application development companies have also given us another greatest find of technology- wearables. It is one of the most innovative and useful finds of technology till date. Wearables which were initially just focused on the healthcare industry have now touched the world of fun and entertainment as well. Earlier there was wearable which helped patients detect their blood pressure or sugar levels. There are gadgets which can count the calories burnt and even the pulse rate of patients. But now, with the introduction of Apple Watches and Google Glasses innovation has a whole new meaning altogether.
The ever changing world of technology also saw mobile app development in bangalore in India and abroad bring out gadgets and apps based on virtual reality. The experience that one has with realistic sounds images and sensations through these VR apps is truly mind blowing. A game like Pokemon Go is one of the best examples of VR which has gripped everyone globally. Another application which we can say would be the master stroke of technology that will grip the world soon is 'Artificial Intelligence' In fact, it was around April 2016 that an interactive robot named Jiajia, who looks very much like a real woman, was unveiled by the University of Science and Technology of China in Hefei.
Of course, mobile apps have given a lift to technology. But this has only been successful because of the high usage of mobile phones. According to research an individual on an average uses his/her mobile device for 3.5 hours a day. It is also stated that by 2020 almost all cars and houses will have smart objects for almost all purposes. Another data by Facebook research says- "73% of people have mobile devices". Google analytics 2014, on the other hand, concluded that "An average mobile session lasts for 1 minute 10 seconds." In other words, people are on their phones for about 177 minutes per day". (2014 Google data) Armed with these data app development companies in India and abroad can now easily understand what the general masses desire. Attracting customers now becomes all the easier. Technology has many facets, understanding and then utilizing them is getting easier for developers and companies which are into developing mobile applications. Lastly, with the ability to make apps innovative and colorful provides app developing companies bring out apps which are out of the box and poses as a great competition to the already existing apps in the market.