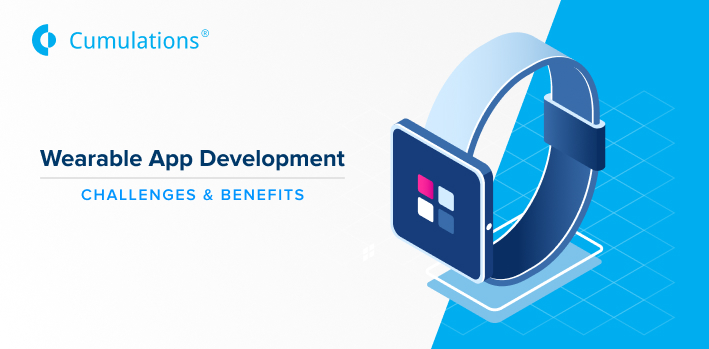 With the advancement in technology, wearable devices are not merely restricted to wristwatches. The Internet of things (IoT) has brought up revolutionary modern-day wearable devices such as smartwatches. The fashion and healthcare industry are mass producers of wearable devices. 
Wearable technology lets a device connect to the other via an internet connection. Most of these devices are designed to work with smartphones. Most of the devices that run on wearable technology require a mobile app to keep track of the data. These modern-day devices are still in the early stage of development, and there is a long road ahead.
What is a wearable app?
Devices that can be worn require a mobile app to connect to. The idea behind it is to gather information from the device. And analyze it on a smartphone with the aid of the internet. There are specific apps that are designed to work with wearable devices. Applications such as Accuweather, Parking, Bring, Spotify are some of the biggest wearable apps.
Since android phones and iPhones make up over 80% of the smartphone marketplace. No wonder, Apple and Google are two of the best developers to wear apps. Such apps are specifically developed to connect a smartphone to an external ready-to-wear device. These apps are more complicated to design than standard mobile apps. Wearable app development is still new and a tough row to hoe for many developers. 
Challenges in wearable app development
Wearable technology is booming in recent times. It was not long ago when smartwatches caught everyone's attention—followed by other revolutionary devices such as fitness bands and wearable jewelry. The wearable industry, like any other industry in the beginning years, is facing quite some challenges. 
Must read: Mobile Apps to Wearables
Other than a stunning wearable device, a likewise stunning and great functioning app is required for the device to run. Wearable app development is not only about the apps and smartphones but also about the smaller screen wearable devices. Here are the biggest challenges faced by wearable apps.
User Interface: As mentioned, a wearable app must not only look attractive and function smoothly on the mobile but also on the other device. Usually, wearable devices have much smaller screens than mobiles and tablets. Moreover, it is quite a task to come up with a design that is attractive yet light.
Battery Issues: If your app consumes too much battery, it won't survive in the competitive market. App stores consider feedback from users. An app that requires a user to charge a device, again and again, will not do well in the market. Finding the right balance between great functionality and battery-saving features is an ever-going task.
Privacy and Security: Every wearable technology requires the transfer of data from one device to the other. However, data transfer has a few benefits. But there is a security concern of the data being stolen by a third party. This is a big concern for people that prevents them from using wearable gadgets.
Functionality: A great functioning application requires more than just a fantastic user interface. To retain the customers, an app must enable a few customizations or bring in a few customizations based on the requirement of users. Developers must focus on ease of use and customer's requirements.
Tethered Devices: A wearable app manages two devices simultaneously. There is twice the reason why an app might fail. It is quite challenging to design an app that is not affected by devices much. In the case of gadgets that run on Bluetooth, it is important to maintain a decent range.
Multi-platform support: The most successful wearable apps are those that are compatible with multiple platforms, especially Android and iOS. However, different platforms require different coding. Hence the app must be custom-made to run equally efficiently on various devices. This also requires a sheer focus on API and various protocols.
Regular Updates: Take a note; over 90% of users are never delighted with the services of an app. There is always a need for updates and upgrades. To stay relevant and on the top of the market, wearable app development requires regular updates that bring new features and/or fix bugs.
The purpose: Finally, it can be quite difficult to come up with a specific purpose that your app is supposed to serve. You must analyze the market and figure what/if a unique and beneficial feature your app can offer. You must analyze what your competitor apps are providing and ways to beat them. The app must be unique, viable, and relevant in the market; else, it will fail miserably. 
Benefits of developing a wearable app
Wearable technology is on a constant rise and for good reasons. Such devices are efficient to make our daily life easy. From the fashion industry to the travel industry, wearable technology is taking over the world. The following are the most significant benefits of wearable applications.
Health & Fitness: The motivation behind the inception of wearable apps is to be able to keep track of fitness activities. Wearable gadgets became a household property when fitness bands were launched. These devices connect with dedicated fitness apps that keep track of various body data such as heart rate, pulse rate, and other data such as calorie burnt, hours of sleep, etc. Fitness trackers are essential for our fast-moving busy lifestyle.
Fashion: Wearable apps are rapidly taking over the fashion industry. Popular brands such as Levis are developing wearable gadgets such as suits, pants, and other clothing accessories. In the coming days, unique fabric clothes that will enhance blood flow as required will be launched. Besides clothing, big brands are producing wearable jewelry such as necklaces, rings, and armbands.
Gaming: The gaming industry is making use of the latest technologies, such as AI, VR, IoT, and wearable technology, to develop amazing gaming gadgets. Various apps are developed to work with gadgets such as eye-wears to produce real-life graphics. Or devices like Gameband+Minecraft that is a wrist band dedicated to gamers.
Entertainment: The biggest entertainment app has made the application compatible with wearable devices. For example, various apps let you play different media such as music, videos, and pictures on your watch or other devices such as Spotify.
Hearables: Wearable gadgets that are designed to listen to music are popularly called as hearable. These small, wireless in-ear accessories are one of the best selling gadgets—for example, Apple's AirPod and Samsung Galaxy Earbuds.  Customized apps are developed to bring the best out of these devices. 
Lifestyle & Shopping: Now you have even a smarter way to shop than using smartphones. Wearable apps dedicated to lifestyle and shopping have provenly increased the sale of products due to ease of buying. Technology is reshaping the retail industry.
Education: A lesser-known benefit of wearable apps is viable in the education sector. Some apps might help you play podcasts, audiobooks, and guides on wearable gadgets. Professors are using wearable technology globally to help students learn new techniques and lessons more excitingly. 
Travel & Business: Wearable apps are proving to be quite helpful for business travelers. For example, some apps help translate language on-the-go. This is useful for travelers while visiting a country where the common language is not spoken.
Activity Tracker: The market is full of a plethora of activity tracking devices. Such devices connect with activity tracking wearable apps to give useful information regarding various activities. From counting steps, estimating the number of calories to be consumed to hours of sleep, and helping to park the car, such apps do more than one can imagine.
Task manager: In this fast-moving world, we often forget the necessary tasks that need to be done. This is where task managing wearable apps come in for the rescue. You can set a reminder for tasks like a scheduled call, meeting, or grocery shopping list. These apps notify the user on all connected devices. Who knew a wristwatch could help you remember the list of items to buy.
Wearable apps require extra attention as they are responsible for co-ordinated various devices simultaneously. Despite many challenges faced by the wearable technology industry, developers continue to come up with great applications.  With the advancement in technology, the best wearable app development is yet to come.
Must read: Cumulations Technologies – A Top 15 Wearable App Development company on Topdevelopers.co