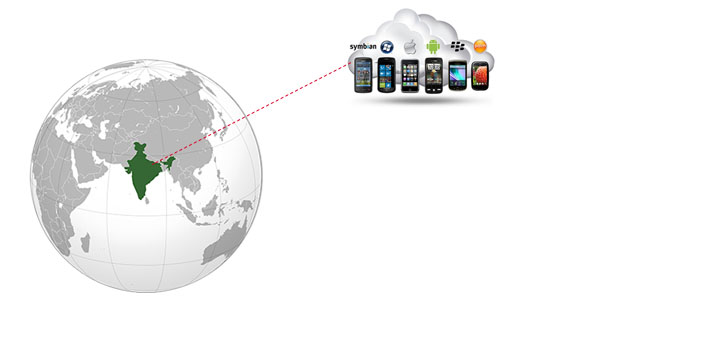 Read the complete article to know why you should choose India for mobile apps development
In 2007, the Tata Group, India's largest conglomerate launched an audacious bid to take over Corus steel, a company four times its size. Tata, a very successful and a revered business entity among Indians was risking the safety of its nest and fledgling it's wings to fly into lands unknown. Though India was home to many big industries and some of the most wealthy businessmen, what Tata did was entirely unprecedented. They dared to go where no one else in India had gone. A year later they would take over two iconic but struggle automotive giants in Jaguar and Land Rover and bring it back to all its glory.
The Tata deal would set the ball rolling for Indian Influence in a global economy as well as inspiring a generation of budding entrepreneurs to dream big. During the same time, a fledgling e-commerce company called "Flipkart" emerged to revolutionize the retail industry in India. The company's growth is unprecedented,  valuing at $15 billion currently. The inspiration from Flipkart would fuel the rise of Indian start-ups with large scale funding from investors abroad.
The meteoric rise of Indian companies is not an insular phenomenon. It shows India's adaptability and flexibility to dynamic market forces of globalization. It also shows how the Indian culture has created a generation of intellectual businessmen. Like much of Asia, the businessmen of India were known for their tremendous work ethic, commitment, and integrity. But there was also a lack of venture and a sense of conforming to present norms and ideals.
This is where India started a break away from rest of Asia. A generation of English-educated Indian youth absorbed the western ideals of innovation, creativity and willingness to take risks. Indian youth trained in high-level skills of Engineering and Management in the English language aids their perspective of a globalized world.
The news of the success of Tata and Flipkart sent a message that success can be achieved through a proper mix of Indian values such of hard work, persistence, and devotion to a cause along with the ability to constantly adapt and change through innovation and creativity in a highly dynamic globalized world.
Such ingenuity meant that India would weather the storm of 2008 financial crisis successfully and in the following years become the most attractive foreign investment destination in the world. In the first half of 2015, India surpassed USA and China as the biggest foreign investment destination in the world garnering investments estimated to be around $31 billion.
Indian Businesses have proven to be highly adaptable to the global market demands. They see opportunities in new technologies and business processes early enough to meet the global standards of excellence. The case in point being the seamless shift of businesses from conventional software development to mobile application development in recent years. India has close to 300,000 highly skilled software engineers addressing the huge demand for app development. The Indian mobile app development market is expected to reach a staggering $100 billion in revenue by the end of 2015.
Not confined to just the current surge in apps development, there is also a large focus by Indian companies to provide solutions for a technology of future like the "Internet of things" and wearable devices. India's internet of things market is expected to grow by 28% in the next five years. With the boom of wearable devices, a market which is expected to grow by 40.8% by 2018, Indian start-up economy is again ahead of the curve in meeting the market demands.
The Indian economy serving future technologies, innovation in software development and revolutionizing business processes has a lot of positives heading into the future. Boosted by the skilled workforce,  funded and guided by the best venture capitalists and supported through government initiatives it has all the capabilities of meeting the demands of the global economy and providing results above and beyond standards of excellence.