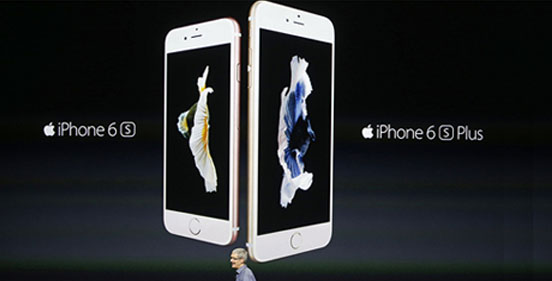 Well, a few days back Siri gave us a hint, there's something big happening on September 9th. I was really wondering what's going to be big? So let's have a glance on what's big happened.
On 9th September 2015, Apple has unveiled the latest generation of the iPhone in the form of iPhone6s and iPhone6s Plus. Nothing much major difference in look from last year's models, but they are packed with powerful features (something big).
Design Pushed Even Further:
They're made with 7000 series aluminum, the strongest alloy ever used in iPhone. And now they're available in rose goldfish color.
They come in two sizes:
iPhone 6s: 4.7" Retina HD display 1334 * 740 resolution
iPhone 6s Plus: 5.5" Retina HD display 1920*1080 resolution
No matter which phone you choose, it will come with stunning Retina HD displays.
3D Touch:
Oh yeah! this is called big. Apple has introduced a most advanced feature in the form of 3D Touch(Light Touch) by adding new gestures called "Peek" and "Pop", letting you go directly to features in apps that you use most; inside apps; Peek can preview information, Pop can take you into it. It sounds like developers will have some runway on how these light and hard presses are integrated into their UI's. On stage, Apple's Craig Federighi demoed 3D Touch with the Mail app — a light touch to preview an email, a harder touch to go into it. Third-party apps are already on board: WeChat, Instagram, and Facebook were mentioned among stage.
Check out the 3D touch Demo video:- 3D Touch Demo
Camera:
Yeah! This is another big thing happened first time in years. Apple is offering a 12-megapixel camera, that's 50 percent improvement from earlier iPhones, but great photos aren't just added in pixels. Apple took care of all the technology in signal processing, Focus pixels, advanced pixel technology. All we want to do is find something beautiful tap shutter button for the best.
Live Photos:
With Live Photos, you can turn captures into unforgettable living memories. Live Photo is a beautiful 12megapixel photo. But together with that photo are the moments just before and after it was taken, captured with movement and sound. A new Live Photos setting in the Photos app captures 1.5 seconds worth of images on either side of the photo you're taking; when you press hard on the image, those 1.5 seconds are added to the photo you're viewing and moving pictures. Best of all, Apple is making Live Photos part of a developer API, so other camera apps will presumably be able to take advantage of it too.
Related read: Apple Special Event 2019 Highlights