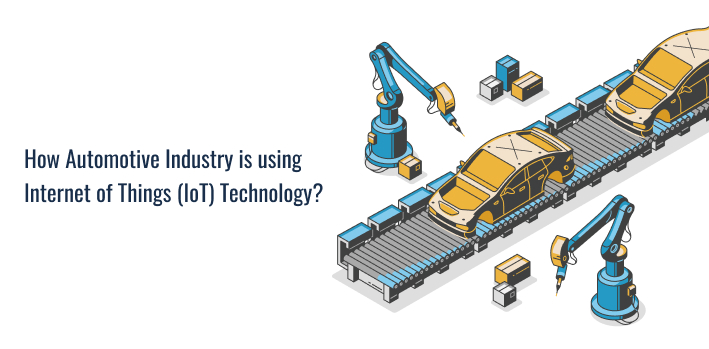 Automotive manufacturers and companies are not quite speedy in the adoption of new technologies. However, IoT (Internet of Things) technology has tremendous scope for the business and industrial segment. It can help it also satisfy its customers better while helping its efficiency and product quality. IoT is about the billions of gadgets and devices that connect to the internet. Wi-Fi or wireless connections can also link these devices with each other, The use of IoT in the Automotive Industry offers benefits including customization, convenience, and safety, and automotive brands can take advantage of it in multiple ways. Wi-Fi capabilities, predictive maintenance, and car-2-car connectivity are only some areas where IoT can be readily adopted. When data can be transmitted by vehicles, there can be three kinds of data transfers:
• V2V- Vehicle to Vehicle
• V2I- Vehicle to Infrastructure and vice versa
• V2X- Vehicle to Device and vice versa 
The cost of wireless connections and sensors is decreasing as well, which may increase the pace at the adoption of IoT in the Automotive Industry. The nature of the industry ensures that IoT can be applied in both production and customer service areas. Below is how the automotive industry is using IoT. 
Judging Drive Behavior and Habits
The automotive business segment has emerged to be one of the leading fastest markets where IoT is being deployed. Around 250 million cars will be connected through the technology this year itself. 
IoT in Automotive Industry can be used for judging the behavior and habits of drivers and their road etiquettes as well. The data and stats collected can be a predecessor to the innovative ideas which automotive companies can use to conceive and implement for improving cars so that they are liked by the users more. Car insurance companies may also use IoT to know driver behavior, which may help in many relevant areas, including policy exclusions and inclusions, premium payments, and others. 
1. Predictive Maintenance
The IoT Devices and tools can collect many different kinds of car data and send it to the cloud, where it is analyzed further. The analysis outputs may help in evaluating car performance, fuel consumption, and other aspects and may also help in areas including predictive maintenance. Car's hardware/software can be serviced at the right time, and drivers are notified of the areas that need attention. 
2. Entertainment
Connected cars can run all entertainment applications live. People are already using their smartphones to browse through a variety of topics and videos while they are on the road. IoT will bring many new avenues and features to car entertainment.
Must read: How IoT solutions helps in Logistics Industry
 The car infotainment systems can manage audio/visual entertainment, provide for smartphone connectivity, and even provide important news and guides during the travel itself. However, the use would be safe as drivers can only take distraction up to a certain degree. Because the sensors can also judge driver behavior, they can sound the alarm whenever required.
3. Fuel Efficiency
The presence of valuable information on a variety of aspects of a car not only helps the automakers to build more fuel-efficient and safer cars, but the autonomous car (by their very nature) can be more fuel-efficient as well. These cars that run through Artificial Intelligence can run at optimal rates and speeds as they are not disturbed any emotions like humans are.
4. Planned Journeys
Predictive maintenance and repair/replacement/overhaul of the right parts will ensure that the journeys are better planned, and cars do not undergo breakdowns when they are needed the most. Taxi and car rental services may be able to gain greater customer appreciation when their transportation and ferry vehicles perform well and delight the customers through excellent performance and the absence of car failures. Large vehicle fleets can now be easily maintained and deployed, as the car owners and agencies will be able to keep a more accurate check on the condition and state of vehicles through the use of IoT. Technologies, including V2V and V2I, may help in areas including:
• Avoiding accidents
• Speed management road-side assistance
• Warning for accidents, road congestions, railway crossings and in other areas
• Prioritizing the safety vehicles
5. Use of Machine Learning Algorithms
Machine learning algorithms can analyze data accurately. This works well for the car companies in multiple ways and can provide valuable insight in areas including maintenance, customer satisfaction, following safety rules, and others. For instance, IoT can be used to embed an in-car monitoring device which may have sensors to judge the state and performance of say, car battery. ML ensures that the data is analyzed, and the report and outcome reveal when the battery should be checked, repaired, or replaced.
6. Easy Over-The-Air (OTA) Upgrades
More and more cars are nowadays using multiple software. Data platforms and OTA ensure that the software upgrades and other safety improvements can reach the car and its owner in the least of time. For instance, the map upgrades can now be implemented and visualized almost instantly.
7. Fleet Management
IoT in the Automotive Industry is destined to bring more efficiency to fleet and transport management. The new vehicles can make the calls, including emergency calls, by themselves, when they have the right IoT sensors and capabilities. IoT management of the largest car fleets is no longer an issue. Data is collected and analyzed automatically, and the reports can be sent to the requisite desks. Fleet managers can make much of data, including data on fuel consumption, vehicle breakdowns, traffic congestion, and others to reach better decisions regarding fleet and route management. 
8. Connections
The new automated technologies, including automotive driving, work better when in synergy and collaboration with IoT. The next-generation traffic infrastructure is also going to be smarter, and features including street signs, lane markers, and traffic signals with radio beacons will soon be standard. IoT can better connect with the NextGen smart intrastate and make driving more convenient while reducing the incidences of accidents.
9. Connected Cars
While all features of IoT can be accessed using the 4G and 5G communication technologies, the use of Wi-Fi will increase the popularity of the new technology manifold. The IoT devices also act as the Wi-Fi transmitter points and can provide for reliable V2D and V2V connections. The connections will make the existing infrastructure and facilities smarter. The technology can also be used to synchronize data and its sharing and for receiving valuable data while driving. 
Must read: 10 Industrial IoT Applications in practice from Top companies
The new cars can provide users with information like information on parking, traffic congestion, and others. Navigating while on-road is easier than ever before.
10. Vehicle Telematics
Vehicle telematics is black box assistance in aircraft.  These boxes are resistant to crash and provide for error-free safety, security, and navigation, while also streaming communications. The data collected can also be used for preventing the occurrence of accidents in the future and for making upcoming car and vehicle models safer.
The use of IoT in the automotive industry can be endless. Safety improvements, map views, availability of information on essential aspects, including traffic and parking, are only some of the uses and benefits of IoT in the automotive industry, and segment. A whole new car experience awaits humans and humanity. We need to stay informed to make the best use of the upcoming IoT trends.
If you are searching for IoT Application Development company for your business, please contact Cumulations.
Related read:
1. 8 Things you should know about Distribution of IoT