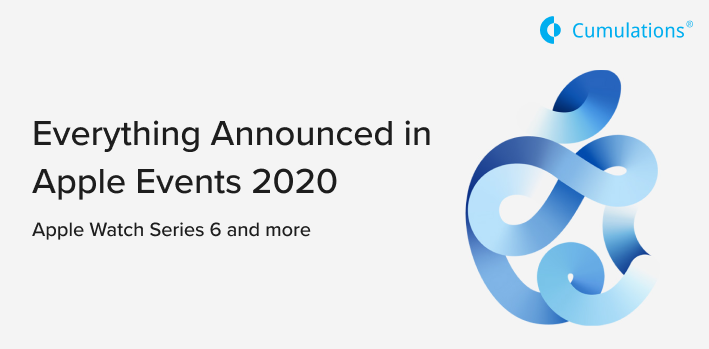 On 15th September 2020, tech giant Apple held its annual hardware event. The event was meant to show off all the latest and amazing Apple devices and services for its customers. However, due to the coronavirus outbreak, the event had to be a virtual one!
To our surprise, the new iPhone 12 was not on the menu. However, the company still had launched a couple of devices to keep us engaged until we saw the news of the iPhone 12 being launched by Apple. 
An interesting thing to note here is that Apple launched a few Apple Watch models, a few iPads, and updates to its services. All of them are packed with an amazing feature set to attract the audience. In addition to that, it also talked about the iOS 14 software which is all set to be released on September 16. 
Did you miss Apple's annual event? Don't worry, we have compiled a detailed summary of all the announcements made by Apple at the launch. So, without any further ado, let's get started.
Apple Watch Series 6 
Apple watch series 6 have been introduced at Apple's annual virtual event called 'Time Flies.' This latest smartwatch edition by Apple is somewhat similar to the Apple Watch Series 4 and Series 5 models. 
However, the Cupertino giant has added a new set of hardware to enhance the performance, water resistance, and wireless connectivity – as told by the company. An interesting feature of the Apple Watch Series 6 is that it is the first in the line up to measure blood oxygen levels. To attract a greater set of audience, Apple has introduced new color options. 
Must read: How to use Alexa on the Apple Watch
Moreover, there is a mental health tracking feature in Apple Watch Series 6 which can detect panic attacks as well as high levels of stress. To control your stress levels, it has tools such as regular breathing exercises. Furthermore, this smartwatch also has a feature for sleep tracking that uses the accelerometer data. According to Apple, Watch Series 6 comes with a battery life of up to 18 hours. 
In order to reduce the damage to the environment, the Apple Watches will no longer come with USB power adapters. However, the smartwatches will still have the USB power cord for charging. So, if you don't have an adapter in hand, you will have to purchase it separately. 
The new model of the Apple Watch Series 6 starts at a price range of Rs 40,900 in India. 
Apple Watch SE
During the event, Apple surprised everyone with its Watch SE – an affordable smartwatch. The Watch SE is a short form of Apple Watch Special Edition, just like the Apple iPhone SE. You can find more about Apple iPhone SE here. 
Apple Watch SE has got the same accelerometer, gyroscope, and always-on altimeter just like the Apple Watch Series 6. This special edition watch from Apple is powered by the Apple S5 SiP – which is likely to make it twice as fast as the previous Apple Watch Series 3. In addition to that, it also has the W3 wireless chip. 
As far as the size and resolution are concerned, they are similar to the Apple Watch series with a Retina display. When compared with the Apple Watch Series 3, it is 30% larger in size. However, it does not feature an Always- On Retina display, however, like the Apple Watch Series 6.
Apple Watch SE provides an optical heart rate monitor that can display both high and low heart rate notifications to the user, along with an irregular heart rhythm notification.
Fall detection, emergency SOS, international emergency calling, and other safety features are also embedded in the new launch. Users won't be able to see the blood oxygen and ECG apps, unlike the Watch 6 Series. It does not have an electrical heart onboard either. As far as the battery is concerned, it comes with a battery life of 18 hours. 
Users can get this Apple Watch Special Edition in both 40mm and 44mm cases. Apple has launched this affordable smartwatch in three color variants – Gold, Silver, and Space Gray aluminum finishes. 
While the Apple Watch Series 6 starts at a premium range of Rs 40,900, the Apple Watch SE will be available for purchase at Rs. 29,900. Its sale is expected to begin in October however, nothing is concrete as of now. 
Apple iPad (8th-gen)
Apple has launched the 8th-gen version of its basic iPad during the virtual event. This new launch is an update of its entry-level 10.2-inch tablet to a faster A12 chipset. This chipset was last seen in the 2019 iPad Air and iPad mini models. 
The powerful A12 chipset also has Apple's Neural Engine – promising twice the graphics performance. According to Apple, this new iPad model will easily fit the existing cases, including the keyboard case (and the ones produced by Logitech). This iPad will also work well with the first-gen Apple pencil, just like its predecessor. 
In addition to that, it will run on iPadOS 14 and offer the features that Apple has shown with respect to the upcoming software update. Amongst other features, users will also get the new Apple Pencil feature like hand-written text input. 
Unfortunately, Apple is still going with its proprietary Lightning port instead of the USB-C port (used by Apple's laptops and iPad Pro). The new iPad is available in three color variants – space gray, silver, and gold in both 32GB and 128GB configurations.
The Apple iPad (8th-gen) is available for purchase at the same $329 (Rs 24194) price point. However, the education customers can avail the discount and get the new iPad at $299. Pre-orders for the iPad have already begun, ahead of its release on September 18th.
Apple Fitness+
This year also, Apple kept its focus on the Apple watch and fitness. To do so, it has introduced a new subscription service called the Apple Fitness+. These subscription services are to be integrated with the Apple Watch as well as the Fitness App available on the iPhone. According to Apple, Fitness+ is priced at $9.99 per month or $79.99 per year. 
After subscribing to the app, users can get access to the fitness classes hosted by Apple. It will also display the health workout metrics over the top of the video, synced from Apple Watch. There is no need to manually save the data – the Health App will automatically store it. 
As far as programming is concerned, Apple Fitness+ has got a couple of workouts including the following:
Cycling

Treadmills

HIIT (High-intensity interval training) workout

Rowing

Strength 

Yoga 

Dance 

Core

Cooldowns 
Each of the classes hosted by this service will be set to music that you can easily find out Apple Music on your Apple device. During the launch, Apple announced that these workouts will be released for the users on a weekly basis. 
Users can access the Apple Fitness+ classes on their iPhone through the Fitness App. Or, alternatively, they can view these classes through an all-new fitness app on their iPad or Apple TV. 
Apple's Fitness+ is all set for its debut before the end of 2020. An amazing takeaway is that Apple will provide 3 months of free subscription to Apple Fitness+ with the new Apple Watch Purchases. 
Apple iPad Air 
Apple has launched the iPad Air during the virtual event and is quite similar to its iPad Pro. There is a significant change in design when compared to iPad Air which was launched last year. iPad Air launched last year had a thick top and bottom bezel and a button for Touch ID. However, the latest iPad Air has comparatively thinner bezels around the display. 
The new iPad Air will be available for purchase from next month at a price of $599. 
On the new iPad Air, Apple has put a bigger 10.9-inch Liquid Retina display. This is fully laminated with True Tone support and anti-reflective coating. Also, Apple has moved the Touch ID fingerprint sensor to the power button at the top of the device. It is, therefore, the very first iPad with biometrics built into the power button.
Apple has put Apple's A14 Bionic, a 5nm chip with a six-core CPU (two high, four low), and 11.8 billion transistors into this iPad. According to Apple, it is the 'most advanced chip' it has ever made. Moreover, it has also got certain machine learning accelerators that apps can use. Apple also switched to the USB-C on the iPad Air launched yesterday. 
AppleOne 
Apple announced the Apple One which is a subscription service that will include all the existing services of Apple so that you pay one monthly price for various services at once. 
It is quite similar to Amazon Prime's services. The exact date of the launch of Apple One is still not confirmed. 
Also read: What is an Apple card & How does it work? All you should know about it