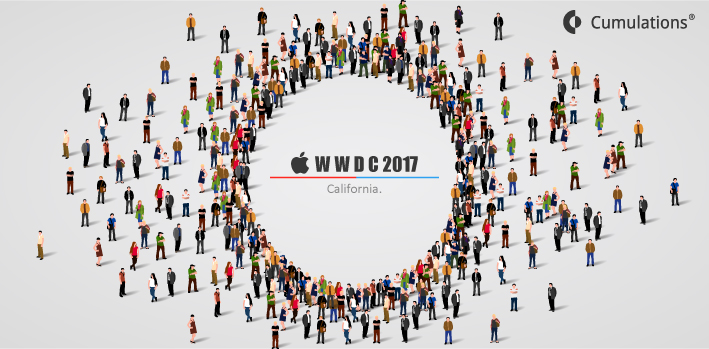 Apple's WWDC 2017 is just a few days away and we can't wait. Long before the official dates were announced and we got a slice of what actually would happen in the conference, many speculations began circulating. But now given the actual date approaching close, we have a clearer picture of what the conference this year is bringing.
Talking dates:
If you didn't already know, the conference dates have been officially announced. The conference would comprise of sessions, hands-on labs, guest presentations, and other events spread across 5 days from the 5th through the 9th of June, 2017, in California. The registrations for the event and the ticket purchases were open till the 31st of March. Developers and participants of the event can be assured of a whole week of fun and frolic beside actual knowledge sharing and learning.
What to expect?
There are going to be numerous interesting events and sessions covering iOS, Mac and lots more. In the venue not far from the Apple headquarters, there would be more than 1000 engineers from Apple taking part in the discussions with the participants. As a platform to reach out to enthusiastic developers and to harvest new ideas, this conference has a lot in store. There are even talks that we might get a preview of the next big iPhone- the iPhone 8 in this conference. We will have to wait to understand how true this prediction is going to be.
For the iPhone and iPad users:
iOS 10 has been a major update for the iPhone users. With each new revision and update that we have seen so far, there's been a lot of new additions and improvements to the ecosystem. One cannot forget about the inclusion of the long awaited feature of replying to user reviews on the app store, from iOS 10.3. iOS 11 to is expected to bring several new features. One of the most interesting news we have received so far is about the speculated social networking app that is being developed by Apple. This app is believed to be included as a part of iOS 11. Though iPhone users were delighted with the amendments introduced in iOS 10 series, iPad users did not receive much. But we expect Apple to focus on iPad users with iOS 11. WWDC 2017 would be giving us more information on what the new update would be bringing. This update would likely be rolled out in September this year and iPhone 8 might also be launched with iOS preloaded.
Did we mention that this OS update is also making Siri better? Siri, if not already cool, is going to get a more "human" touch in its interaction. Bixby would have a tough competitor to tackle.
For Mac PCs and laptops:
MacOS 10.13 is coming! Or is it going to be MacOS 11? We would know that for sure at the conference. There are definitely going to be few design changes in this update and feature additions too. These revisions are going to make it better for the Mac devices to interact with other Apple devices. For a preview of the OS, a final word about the name of the update, and more information on the features, we would have to wait for WWDC.
And More!
For the wearables and Apple TV users too, there is a lot in store. Apple watch was made so much better with the last major update that we saw. And now WatchOS 4 would be no exception. Additional apps, features like sleep tracker and more can be expected to be incorporated. And for TVOS, another 11' update like the Mac and iOS, TVOS 11 is likely to be discussed in the conference. This is to make the best of your Apple TV's features. We do not, however, have solid information yet about the changes that can be expected. So, what about the actual news that everyone is waiting for? Are there new products coming this year? When is the iPhone 8 coming? Is Apple launching any new Macbooks anytime soon? For the answers to these questions and more, let us begin our countdown and wait for the 5th of June.
Related read:  Here's what Everything Announced at Apple's WWDC Conference