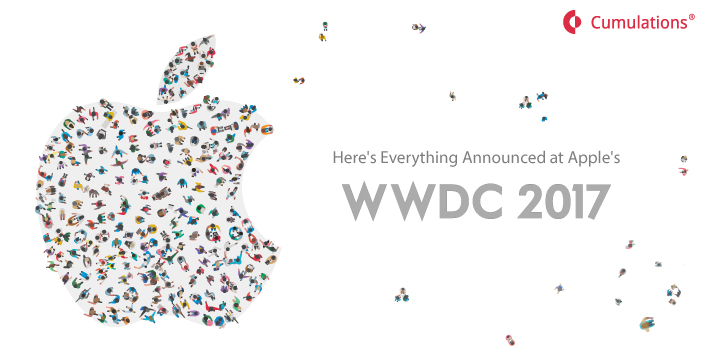 Apple's WWDC 2017 kicked off with a bang! Every single announcement made in the keynote has got us all excited. Ranging from iOS 11 updates to hardware announcements, many of the announcements seemed incredibly logical and so many of them happened.
All that is new with iOS 11:
With numerous enhancements, a beta version of the update is coming at the end of the month. The final version would be made available to the users this fall. Few of the notable features of iOS 11:
          • Camera app would be getting new filters. With Apple's new image compression technology, image files would now be taking up less space.
          • Live photos can be converted to video loops and they can be made to bounce.
• Messaging apps is to get sleeker. With the new single-handed typing layout for the keyboard, messaging gets even better. Also, it would be possible to make and receive payments through Apple Pay in messages.
• Drive mode now gets smarter. Your iOS device senses when you are driving and automatically turns off all distractions.
• Control center is getting a new look. It looks more organized and comes with few added controls as well.
• Apple Music allows sharing music and playlists
Did we mention about the redesigned App Store? You would be getting more personalized app recommendations and app segmentation. There are also how-to's and expert stories to help choose the best apps and games.
As AR gains momentum, Apple is making it easier for developers with the new AR Kit which makes the development of immersive AR apps simpler.
For the iPad:
Much like we anticipated iOS 11 is bringing a lot of upgrades for iPad. File organization is made better with the Files app. Files and folders can also be dragged and dropped. The customizable and intelligent iPad dock would be accessible from every screen. In the multitasking segment, there is a Split View where you can open running apps side by side. Apple Pencil support is given intelligent developments thanks to the incorporation of deep learning.
Siri gets smarter:
iOS 11 makes Siri so much better. It is not just the improvement in the voice but also the numerous other refinements. Siri can instantly translate for you. Powered by machine learning Siri now would learn your preferences from the way your iPhone. And when you ask Siri to play music Siri, having learned your tastes would play your favorite song. You could ask questions about your favorite song and get instant answers as well.
High Sierra- that's what the new macOS would be called:
Taking Mac experience to an all new level, the new update to macOS brings an improved file management system which is more secure and responsive. This also includes HEVC (high efficiency video coding) compression system for 4K videos so that you can record many more videos without the worry about losing disk space. Graphics performance is given a lift with Metal 2. Similar to that with iOS, there are several additional features for photo editing and live photos for macOS as well.
Hardware announcements:
Getting to the most interesting part – there were several exciting announcements in the hardware segment-
• The New iPad Pro- bringing the power of PCs in a portable form comes the new 10.5" model iPad Pro with revamped Retina display with a super-fast 120Hz refresh rate. The anti-reflective coating would be supplementing the P3 color gamut 600 nits display.
• The New iMac- with a better processor and graphics performance, the new iMac is coming with a 21.5" immersive 4K Retina display. This would also mark the inception of VR for iMac.
• HomePod- our most favorite among the hardware announcements! It is not just a Siri speaker as we expected. It is, as Apple calls it, a "breakthrough speaker". Designed to perfection, this one is more than just a speaker. Truly living up to the Hi-Fi sound expectation, this one comes with spatially aware sound delivery- so no matter which room you place the speaker in, you are sure to get the perfect sound coverage in the room. Beamforming is achieved with the seven tweeters lined up to create an immersive sound delivery. And we haven't covered the best yet- HomePod comes with Siri integrated; a new and improved Siri! You can ask Siri to instantly play or change music, and make the best use of the "musicologist" feature. You also get to control your smart home devices, and get News updates and do a lot more. All these come in an adorable rounded cuboid form factor available in black and white.
Related read: What we learned from Apple Special Event 2019