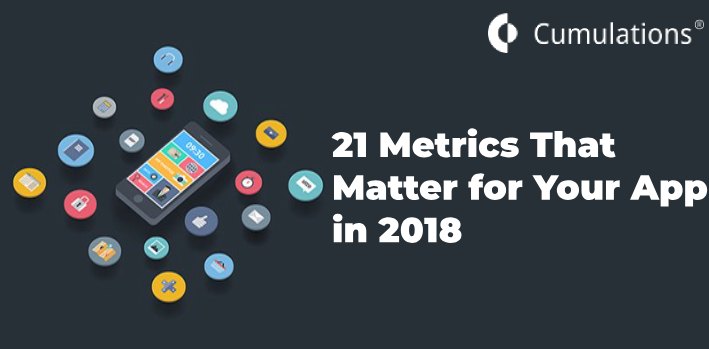 We know how much money, time and effort you have put into building a great app deliverable. But is your app idea resonating well with your actual users?
Well, once you have built and deployed an app, it is imperative to constantly upgrade it in order to gratify your users.
And for that, you need to assess how your app is performing with the users. In today's post, we have compiled a list of 21 essential metrics that will help you in determining the success rate of your app.
These metrics are broadly classified into the following categories:
User Engagement

User Acquisition

Customer Satisfaction

App Performance
Along with these, we have also provided some significant tips to improve the metrics, if they are not up to the mark. So, let's begin.
1. App Downloads
The number of app downloads signifies the number of times your app has been downloaded by the audiences.
In order to ensure success, you need to reach a substantially large number of app downloads. It is one of the biggest metrics for gauging user engagement since the prime objective of every app is to consolidate a humongous user base.
On the other hand, if there are fewer app downloads, it means that your app hasn't been able to fetch a sizable user base. The reasons for this may be many such as lack of marketing efforts, problems in the effectiveness of app store listing, no proper app store optimization, etc.
Finding out the source of your app downloads can help you in rectifying this problem. This will help you in assessing the value of your marketing campaign. You can also create a landing page or improve your app store optimization to fetch greater audiences.
Furthermore, you can use tools such as Play Store and App Store Reports tracking the success rate of your marketing efforts.
2. Active App Users
Active app user metric helps in measuring the number of users who are using your app on a regular basis instead of just downloading it.
This metric allows you to easily determine your app's growth rate. It is further classified into Daily Active Users, Weekly Active Users, Monthly Active Users, and Stickiness which is calculated by DAU/MAU.
There are a plethora of analytical tools to calculate the number of active users such as Google Analytics, Fabric, AWS Mobile Analytics, etc.
Each tool has its own criteria for measuring the number, but most of these tools depend upon a "session" metric. For example, the popular Google Analytics counts one session when the user has interacted with the app for 30 minutes.
Furthermore, you can evaluate the stickiness to know about the features of your app that are most appealing to the users. You can leverage push notifications to bring back your inactive users.
3. Session Interval
This measures the time gap between two consecutive app sessions and calculates the frequency at which the user returns to the app. This is a great user engagement evaluation metric as it determines how soon the user returns to the app.
The best way to improve this metric is by sending push notifications to the users. These notifications help the users in returning to the app sooner than they otherwise would. Updates on new features, discount offers, interesting deals, etc. can help in reminding the users about the value offered by the app.
Furthermore, the best tools to evaluate the session interval metric are Google Analytics and AWS Mobile Analytics.
4. Session Length
Session length helps to measure the time interval between the opening and shutting off the app by the user. If this session length is long, it implies that the users are engaged with the app.
Using analytical tools, the app owners can also identify the users who spend a lot of time on the app and gather their feedback in order to improve the overall experience of the inactive users.
5. App Retention
This metric is defined by calculating the number of users that return to your app within 30 days. And as a matter of fact, retaining users is much more important than acquiring them in the first place.
App retention and stickiness work together, for if the users are addicted to your app, they will certainly stay with it. A statistical study points out that in most cases, only 40% of the users return to the app after their first session.
You can increase app retention by introducing some noteworthy changes to your onboarding process to offer an enhanced user experience. With tools such as Fabric, Localytics and AWS Mobile Analytics, you can easily calculate the retention rate and gauge your app's success.
6. App Churn
This is another very significant metric that helps in assessing user engagement. This is just the opposite of retention, i.e. it refers to the percentage of users who close the app and then never come back. For instance, if your retention rate is 30% over a period of time, then your churning rate is 70%.
If you want your app to be a success, the retention rate should be higher than the churn rate. Therefore, the best way to decrease your churn rate is by optimizing the onboarding process so that the users can experience your app as fast as possible.
Aldo, by leveraging push notifications and sending personalized messages to the users, you can encourage repeat visits and engagement. Additionally, you can consider deep linking your app to reactivate monthly active users.
7. Screen Flow
This helps in calculating the total number of visits per screen by the user as well as the navigational flow between various screens. By this, you can easily apprehend the specific actions of the users and clearly understand their navigational pattern.
Learning about this pattern can further help you in identifying the drop off screens, problem areas and conversion road bumps. Additionally, you can deploy a better marketing strategy and implement redesigns to enhance the screen flow. The significant tools used for this metric are Google Analytics, Localytics, and Mixpanel.
App Metrics for Customer Satisfaction
8. App Rating
This is one of the most important metrics as it largely persuades or dissuades new users from downloading your app. Looking at your app ratings, new users learn what existing users think about your app.
Also, according to a study conducted by Apptentive, it was projected that more than half of the users generally check the ratings of an app before installing it.
In order to improve your ratings, you can prompt the users with a rating request within the app. This way they will not have to make the extra effort. However, make sure that you only submit the request after you have shown the worthiness of your app.
On the other hand, you can use some analytical tools such as Appbot, AppFigure, etc. that help you in locating and contacting the users who have given a negative rating to understand the flaws in your app and improve them.
9. App Store Reviews
App store reviews greatly impact your app installation rate. They are the reviews left by users of your app that appear in the app's app store listing.  Going by Apptentive Report, 70% of the users download the app after reading the comments of one of two users. Therefore, it is imperative to have positive reviews so that the users feel confident about your app.
To improve this metric, you can prompt the users to leave a review through and easy and quick procedure. You can personalize these prompts to persuade the users to leave a positive review. You can also use a review monitoring tool such as Appbot to keep a track of all the reviews.
Whenever a review is dropped, the app owner receives a notification. In case, there are several negative reviews dropped on the app, the owner can investigate into the issue to identify the problem areas.
10. In-app Feedback
As the name suggests, in-app feedback is the feedback provided by the app users from within the app. This can be through contact forms, surveys or any other kind of request.
The best part about this is that the feedback can be easily sent while the users are still interacting with the app and that they do not have to leave the app, encouraging more responses. Also, these feedbacks are quite valuable as they are generally submitted by those who are actively using your app.
There are varieties of diagnostic tools for gather in-app feedbacks such as Drift, Instabug, Intercom, UserVoice, etc. Most of these tools offer additional information such as the device type being used, OS version, model, etc. This data can be further used to better identify and understand the issues and improve them.
11. Net Promoter Score
Another very significant metric to measure customer satisfaction is the Net Promoter Score (NPS). NPS is an index ranging from 100 to -100, showing the willingness of the users to recommend your particular app to their friends and family.
In order to measure the NPS, you need to ask your users a simple question related to the likelihood of recommending your app and asking them to rate it on a point scale (0 to 10).
By using such a scale to measure your NPS, you can classify your users into 3 categories:
Promoters- Users who gave a score of 9 or 10. This is the category of loyalists who would stick to your app and would happily recommend it to others.

Passives- Users who gave a score of 7 or 8. Such people are generally willing to recommend your app, however, at the same time, they wouldn't hesitate to switch to another option if a better bargain is offered.

Detractors- Users who gave a score of 6 or lower. These people are not particularly satisfied with your app and have no most inept in recommending it further.
To calculate NPS, you can subtract the percentage of detractors from the percentage of promoters. The best tools for this are Drift, Medallia, Delighted and HelpScout.
App Metrics for User Acquisition
12. App Store Rankings
App store ranking is a noteworthy metric, as higher search rankings directly translate to a higher number of downloads. Showing up in the search results is a great deal if you wish to consolidate a huge user base. Also, Apple's search algorithm rewards apps that have a higher search ranking and makes them more visible in the App Store.
The best way to improve this metric is by optimizing your app store's listing. Also, you can hurl out frequent app updates, i.e. 3-4 times a month to improve your ranking and bag positive reviews by the users. Tools such as App Annie, SearchMan and appFigures can further help you to improve your app store rankings.
13. App Attribution
App attribution enables you to track the sources that are helping you acquire users for your app. It is especially beneficial in tracking the success of your marketing campaigns as you can see which specific marketing effort helped you in acquiring new leads.
To improve this metric, you can use the deep link technique that links the users from your advertisement page to whatever page you want them to be. Tools such as Branch.io and Adjust can help you improve your app attribution.
14. App Abandonment
App abandonment helps in determining the number of users who abandon your app even before signing it or after the first interaction. This metric is helpful as it helps to pinpoint the flaws in the onboarding process.
If the users reach your sign up screen but abandon your app in the middle of the process, it implies that there are some issues with your onboarding process. You can reach out to those users via SMS or email with deep links to a unique and personalized sign up process. Tools such as Branch.io can help you simplify your sign up a process and improve the overall user's experience.
15. Viralness
Little similar to NPS, viralness measures how many new users are added to your user base through referrals from your existing users.
These new users are generally expected to stick to your app as they are connected to their peers who are just doing that. Also, the cost of acquisition is low as you have only acquired them through word of mouth.
You can incentivize your existing users by offering rewards points or free vouchers for referring your app to others. Also, it's a good idea to reward both sides for joining the app instead of just the existing users as this will encourage the new users to sign up as well.
Buzzsumo and Branch.io are great analytical tools to determine the number of people sharing your app. Built-in analytics for social networking channels such as Facebook, Instagram, and Twitter also help you to evaluate your app's viralness.
16. Lifetime Value
Lifetime value (LTV) refers to the total amount of revenue you are able to generate from a user before he abandons the app. For this, you need to calculate your cost per acquisition and subtract that from the total amount generated to know your profit. It is imperative to understand that it can take a little while before you start receiving a return.
The best way to extend the lifetime value of your user is by apprehending their needs. You should try to gather regular feedback as well as launch frequent app updates to make the users stick to your app.
Also, make sure that your app's performance is up to mark. Offer instant customer support to make the users believe in your product.
17. Revenue Target
As the name implies, this is the goal you set to acquire a specific amount of revenue over a period of time. It is always better to set a realistic and specific target in order to remain accountable.
Furthermore, keep your marketing strategies in place and regularly check the metric to understand your progress on a weekly or monthly basis.
18. Average Revenue per User
This metric helps to define the average revenue generated by each user. This metric helps you in finding out whether you are able to meet your revenue targets.
Also, if you have a large number of small paying users and only a few big paying users, the average can come out to be just fine.
To calculate the average revenue per user, you need to divide the total revenue generated by the number of users.
19. App Crashes
App crashes mean that your app shuts down abruptly while the users are still using it. This is a major issue and should be addressed right at the start. If this metric suggests that your app crashes quite often, you need to fix the problem as soon as possible to offer a pleasant user experience.
The best way to minimize app crashes is by rigorously testing your app while it is still in the development phase. You can deploy a beta group to identify as many problems as possible so that they can be rectified before the app is hurled out at the public platform. here are some of the best tools for mobile app testing.
20. App Speed
This metric measures how fast your app loads and operates. This is generally a given, as all users expect the app to be quick and speedy. In order to meet the user expectations, try to thoroughly test the app for speed to make sure it is free from bugs and glitches.
Also, ensure that the app stays fast across various operating system versions.
There are a plethora of tools that help you measure the app's performance and speed such as New Relic APM, Rollbar, etc. These tools also help you to pinpoint issues that are causing app downtime so that they can be rectified in real time to offer a delightful user experience.
21. Network Issues
Network errors are errors caused due to inefficiency in the service provider while trying to connect to a network. This often leads to app crashes which in turn dissuades the users from using the app.
This is a common problem and generally leads to a displeasing user experience.
In order to avert this issue, you should focus on good caching so that the users are not fully dependent on the network system. Furthermore, you can deploy various performance evaluating tools such as Xcode and Android tools to check the varying network connection speeds.
Also, tools such as Charles Proxy and a few third-party networking libraries such as OKHttp help in determining the speed of network connections.
Final Thoughts
Developing your app was certainly not easy. So, stop taking it for granted once you have launched it. You need to spend time and effort on continually upgrading your app to offer a worthy customer experience.
All the above-mentioned metrics are greatly instrumental in determining the growth and success of your app.
Therefore, keep a track on these metrics and introduce improvements as needed, to make your users stick to your app.