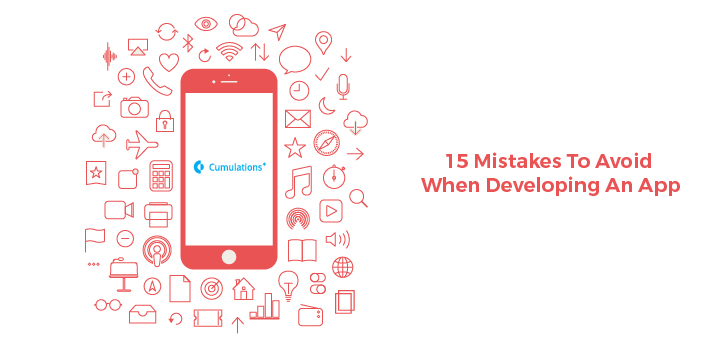 Mobile apps offer the most fantastic way of venting out your spectacular business idea. Considering the escalating fad and acceptance of mobile apps among the millennial, developing an app for business is unquestionably a brilliant idea. However, the only problem that hinders most business enterprises is trying to figure out the right approach.
With approximately 3 million apps inundating the app stores, the only way to make it to the top is by delivering a proficient app with standout features, interactive design, and vigorous marketing strategies. In this respect, it is exceedingly important to dodge these common pitfalls that do not emasculate your effort as a developer and proffer an ultimate user experience. Let's have a look.
1) A Poor UI/UX Design
A poor UI makes a good app idea lose its worth.  Taking good care of the placement of different components within the app augments not only performance but also the UX (User Experience). While designing, remember simplicity is the key. Go for a well-outlined, interactive UI that doesn't make it hard for the users to navigate through the different screens. Additionally, make sure that the app runs seamlessly on different devices without causing any compatibility issues. Draw inspiration from the top grossing apps to learn the newest trends in UI design.
2) Incorporating Too Many Features
The soubriquet "Feature Rich" is often used by app developers who seek to incorporate a plethora of features into their app to grab user attention and appreciation. They fail to comprehend that adding too many features not only shadows the core functionality of the app but also makes the user experience burdensome and baffling. It makes the app heavier and considerably upsurges the cost and time of app development. Alternatively, fewer and operative functionality assists the users in concentrating on the core features and enhances the utilitarian value of the app.
3) Developing for Several Platforms at Once
If you have a restricted app development budget along with a small timeline, it is advisable to go for an app built for a single platform at a time. Focusing on a single product substantially brings down the cost of development and radically reduces the time to market. Moreover, developing for one platform helps you to gather valuable insights into your app's performance and popularity. You can use this information to make the necessary amendments and then post your idea to another platform within a span of time.
4) Do Not Forget Your Target Customers
Customers are the kingpin of your business. After all, you are developing an app to please your existing customers and entice new ones. So, make sure that your app is customer-friendly. Keep in mind the end user objectives to interact better with your target customers. An adept app with an unparalleled customer experience will certainly help you gain more users.
5) Redesigning Without Proper Feedback
App updates are crucial to success. Frequent updates create an impression that the app has not been abandoned. You need to collect all the necessary information and feedback from the valuable customers before making any changes by way of app updates. Understand the user expectations from your app and redesign after proper feedback in order to enrich the app user experience.
6) Imitating Other Apps
While it is good to take online advice and learn from your competitor's apps, imitating them entirely is where most app developers fail. Remember every app has its distinctive set of objectives, features and functionalities and a different ambit of the target audience. Copying other apps will not add any value to your product. Instead, try to hold surveys to gather qualitative data that reflects your customers' needs and preferences. Use this data to develop a significant app idea that can work or your business.
7) Exhausting Tutorials
Tutorials are generally tiring. Overloaded with unwarranted information, these tutorials give an impression of a botched UI. So, try to make your UI self-explanatory. It should be easy to understand and navigate through so that the user doesn't have to depend on tutorials.
8) Lack of Feedback
Your app should inform all the happenings to the users and send confirmation signals after a specific task has been performed. For instance, you can change the color of buttons after they have been clicked to help the users remember that the action has been done. These simple messages and visuals enhance the interactive level of your app and help the users in knowing how to perform a specific action.
9) Paying No Attention to Social Media Links
Considering the rising craze of social media sites such as Facebook, Instagram, Twitter, etc. among the people, it only makes sense that you link your app to these sites. This not only saves the users from long registration procedures but also nips the pain of remembering several IDs and passwords, thus enhancing the overall user experience.
10) Taking Reference from Web pages
"Mobile apps are the extension of a website". Well, this is one fallacy that often leads to futile apps. An app should deliver unique value to the user that is very different from a website. Additionally, the user experience should be well-optimized for a native mobile interface and not for browsing. Therefore, taking reference from web pages can prove to be a fatal decision for your business.
11) Not integrating analytics
Analytics help in providing pertinent user information along with their in-app behavior, such as daily and monthly active users, user engagement, the rate of retention, duration of an average session, etc. This information can be highly instrumental in introducing the much-needed changes in your app to meet the user needs and expectations.
12) Not Going for Rigorous Testing
Before launching your app, it is important to put it into rigorous testing practices so as to make sure it is free from all bugs, glitches and technical snags. This will improve your app's performance and efficiency along with delivering a fine user experience. Also, remember that performance concerns are best evaluated by impartial users or third-party experts. Therefore, consult professional help during the testing stage of app development.
13) No Idea How to Monetize Your App
It is imperative to have a lucid monetization plan in order to earn money from your app. First of all, you should have a clear understanding of the various monetization strategies that you can opt for. Depending on the type and purpose of your app, target customers, and your competitor's apps, you can choose from in-app purchases, in-app advertisements, etc. At the same time, it is significant to understand that too much of this can put off the users. Jamming the app with a plethora of ads or unnecessary in-app purchases can impede the user experience and greatly impact the app installation rate.
14) Not Doing Pre-Launch Marketing
With the app stores being jam-packed with every possible kind of app, it becomes exceedingly crucial to observe a robust pre-launch marketing campaign in order to create a buzz around your app and engage the potential leads. This will help in augmenting the conversion rate and making your app popular among the audiences. Creating a small website, landing pages and social profiles with the app concept, name, logo and other contents of your upcoming app can help in making your pre-launch marketing campaign a success.
15) Hiring an Inexperienced App Development Company
Hiring an inexperienced and neophyte mobile app development company can prove to be a detrimental decision for your business which has the ability to radically impact your customer base and revenue generation. Developing a proficient app calls for a profound understanding of the market, designing proficiency, a thorough study of customer engagement patterns along with the best app testing techniques. Therefore, make sure you hire a company which enjoys a noteworthy reputation for developing adept apps and improving sales.
Conclusion
The points mentioned above are some of the most common mistakes made during the app development process that undermine the efforts pitched in by developers. They take you away from your goad and substantially hamper the user experience. So, make conscious efforts to avoid these slipups so that you grow in the right direction and pave the road to success.
Read More:
9 Quick and Handy tips for Building a Mobile App
Mobile App Development Lifecycle- Journey of App from Development to App Store
Freelancer APP Developer Vs Mobile App Development Companies: Selection Checklist