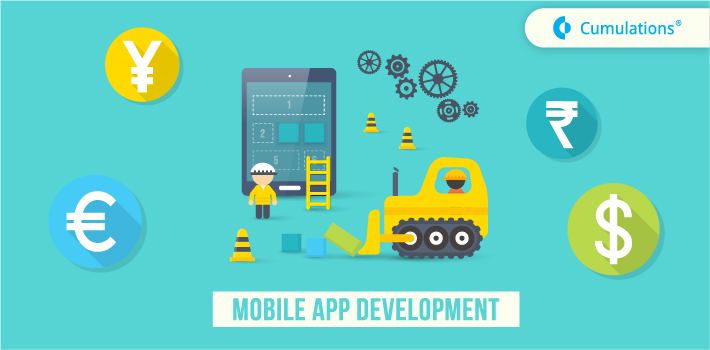 The usage of mobile apps has catapulted, with a 20% increase from the last year, in the average time a person spends on the apps every day; Source: comScore.
Mobile apps are significant drivers of traffic. Connecting you with your on-the-go customers is indubitably one of the biggest benefits of mobile apps. With these apps becoming such an inherent part of every person's lives, your business needs mobility to not only survive but also succeed.
But even then, there are a plethora of business enterprises who are still contemplating the need for mobile apps. Surprising? Well, here it all condenses to the most significant element- Finance. Yes, it's the budget where everything gyrates. Being an entrepreneur, it is imperative that you understand the real cost of developing a robust mobile app so that you get your budgeting right. And for that, you need to fathom how various components drive the costs of creating a mobile app.
Broadly, there are five vital costs that you need to account for so as to cover all your bases all through your app development voyage. Let's have a look at them.
1) Mobile app development costs
When a company thinks about developing their very own mobile app, the first query that clicks their mind is "What is the cost of developing a mobile app?"
Well, there is no easy answer to this. There is a deluge of factors that regulate the overall cost in the mobile app development period.
➢     Mobile app type and functionalities it exhibits
➢     App infrastructure
➢     Mobile app user interface
➢     3rd party software integration
➢     Scalability
➢     Data encryption
➢     Testing and final deployment
All aforementioned pointers are basic cost drivers in the development process. However, professional and experienced mobile app development companies in India give a fair idea to their clients based upon an envisioned list of features and functionalities to be incorporated.
2) Ongoing mobile app maintenance costs
If you think that your mobile app development costs end with the materialization of the desired app solution, think again. The real struggle of maintaining your app has just begun.
It is always wise to develop a sensible software which is user-friendly, functions well and is packed with utilitarian features. It is important to focus on the core functionality of the app and promote the features that offer optimal value of the app idea. Being the proprietor of the project, sit down with your development team and lay out a comprehensive budget for major app updates, addressing new risks, malware threats, technological encroachments and generating bug fixes during the lifecycle of the mobile app.
A lot of you may think that creating a perfect impassable mobile app from the very start would eradicate the need for ongoing maintenance. This is exactly where most entrepreneurs fail.
A "perfect app" from the very beginning is nothing but a loose term, particularly when you are not quite sure about your users' needs and preferences. All you will end up doing is spending a fortune on the preliminary cost and so, it is prudent to gather useful user feedback and then determine the changes needed thereof.
3) App hosting costs
App hosting is perhaps the most significant investment a business entrepreneur makes during his project as selecting the correct hosting service can make a world of difference to the end user experience. By getting the right hosting provider, you not only make sure that your app operates better and quicker; you also make them largely scalable for running on every type of device.
Suitable investment at the right time in the hosting of your app ensures round the clock unified functioning while providing a quick loading and consistent milieu to the end user. There are several cost drivers supplementary with mobile app hosting:
➢     Bulk of requests received by the app
➢     Web traffic
➢     Additional data-expending features
➢     Memory optimization
➢     Database hosting
➢     Security against threats
In order to offer optimal user experience, app hosting and its associated costs should never be bargained with. This will assuredly place you on the same page with your competitors, if not ahead.
4) Cost of external APIs
It is important that your mobile app seamlessly interacts with other applications so as to ensure a rich user experience, and this interactivity can be obtained by including features that permit your app to collaborate with other software platforms. This can be achieved through API or Application Programming Interface.
API functions in the background, independent of the user, thus creating interactivity between apps which is absolutely seamless and discreet. One of the greatest and exceedingly efficient external API service is Twilio. This paid service permits its users to benefit from incorporating a pre-defined API functionality into their own software platforms. Leveraging the service, your mobile app can make calls or send messages to any other mobile device easily and effectively.
Using an external API can save you from the time and cost involved in coding an app from the scratch. You can be relieved from a huge deal of administrative work such as managing emailing, tracking, billing, retrieving data and more. This way you can place all your focus on handling the core functionalities of your app.
5) Data security costs
Ensuring data security is central to the conformity of the entire app development project. Security should never be treated lightly. So if your app is ready for the launch but you haven't settled down the security concerns, do not proceed further.
Every possible step should be taken to ensure the safety of user data, passwords and other information linked with the app usage. At first, this may seem to be a time-consuming and expensive chore, but it is vital to apprehending the importance of securing your mobile app in order to proffer a smooth and desirable user experience.
If you fail at implementing adequate security checks into your app, you may face a major security breach, malware attack, viral infection or system attacks, rectifying which will ultimately cost you much more than installing a careful security strategy in the very start. Therefore, invest wisely and amply in a robust mobile app security so that your app can successfully fight the risks involved for the value to information stored.
Final Thoughts on Mobile App Development Major cost factors
An interactive, feature-packed and well-managed app can definitely help your business touch the zenith of success. Observing a robust mobile strategy from the very start can make an enormous difference in the final output. So, understand all the above-mentioned factors and then determine your app budget with ease.
Related Read:
2) Mobile App Development Trends That Will Continue to Dominate in 2017
3) Top 5 Reasons to Outsource Mobile App Development